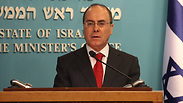 Silvan Shalom
Photo: Gil Yohanan
Prime Minister Benjamin Netanyahu has handed responsibility for any future peace talks with the Palestinians to his new Interior Minister Silvan Shalom, an official said Monday.
"The prime minister has charged Silvan Shalom with conducting in his name the negotiations with the Palestinians," the official said on condition of anonymity.
Shalom, a veteran member of Netanyahu's rightwing Likud party, will also be in charge of strategic dialogue with the United States, public radio said.
The nomination was denounced by the Palestinians who said Shalom did not believe in the two-state solution.
"He does not believe in a Palestinian state. He's against a two-state solution," an official from the Palestine Liberation Organization (PLO) told AFP, asking not to be named.
"It's not an issue of names. It's an issue of policy."
Shalom served as foreign minister in 2003-2006, a period which covered the second Palestinian intifada and Israel's withdrawal from the Gaza Strip.
The last Israeli minister in charge of negotiations was Tzipi Livni, the co-leader of the joint Zionist Union party, who served as justice minister until she and former finance minister Yair Lapid were fired by Netanyahu in December, triggering snap elections.
The position of foreign minister is now held by Netanyahu himself after the previous incumbent, Avigdor Lieberman, bolted coalition talks at the 11th hour, relinquishing the portfolio.
Netanyahu's new government, which was sworn in late last week, marks a shift to the right by giving increased prominence to Naftali Bennett's far-right Bayit Yehudi, which opposes a Palestinian state and strongly backs settlement activity.
The move looks likely to complicate Israel's already damaged relationship with the Palestinians and further strain ties with the international community.
Indirect US-led peace talks collapsed in April last year, with the relationship between the two sides severely strained, prompting the Palestinians to step up efforts on the international stage to seek their promised state.
Shalom's new authorities make him the acting foreign minister in anything but name. This appointment could anger both Likud MK Gilad Erdan, who asked for the Foreign Ministry but was turned down, as well as Deputy Foreign Minister Tzipi Hotovely, who said Netanyahu "gave me the Foreign Ministry as a deputy minister without a minister, with all of its authorities."
Many of the ministers in Netanyahu's fourth government will deal with diplomatic and security issues - which could caused friction and unnecessary conflict between the ministers. For example, the Iran issue will be handled by Defense Minister Moshe Ya'alon, Transportation and Intelligence Minister Yisrael Karz, Immigrant Absorption and Strategic Affairs Minister Ze'ev Elkin and Energy and Water Minister Yuval Steinitz (who is in charge of the Israel Atomic Energy Commission).
Now, Shalom will also deal with the Iranian issue as part of his responsibility over strategic dialogue with the US.
Itamar Eichner contributed to this report.