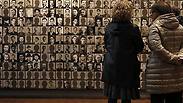 Holocaust Museum in Kalavyria, Greece
Photo: AP
A city in Greece has cancelled the unveiling ceremony for a statue commemorating the 1,484 Jews killed in the Holocaust, after the local Jewish community refused a demand by city hall to remove the Star of David.

The municipality of Kavala, a port city in northern Greece, insisted that the Jewish symbol engraved on the memorial be removed before the unveiling.

The Jewish community rejected the request, after which the mayor and city council announced the cancellation of the ceremony, which was scheduled for Sunday.

"To object to a Star of David on the monument is morally reprehensible," said Anti-Defamation League Director Abraham H. Foxman.

"Kavala's Jews were killed because they were Jews, and the value of a monument is to make that fact demonstrably clear," Foxman said.

"The mayor and the city council have insulted the memory of victims, the Greek Jewish community, and Jews around the world, and we join with the Greek Jewish community in voicing our outrage," he added.

"There are no words to express adequately our shock and dismay at this news," said American Jewish Committee (AJC) Executive Director David Harris in a statement.

"How can it be that the eternal symbol of the Jewish people – the very symbol that the Nazis required Jews to wear in the death camps and ghettos of Europe during the Second World War – is deemed unfit for public display in Kavala? What gall for the Jewish community to be asked to remove the Star of David as a condition for allowing the monument to be displayed," said Harris.

"We stand shoulder-to-shoulder with the Greek Jewish community, and indeed with all Greeks who are as outraged as we are, by this brazen insult to the memory of Greek citizens who were arrested, deported, and murdered simply because they were Jews," he continued.

"Let us hope that reason quickly prevails," Harris concluded, "and that Kavala's city officials reconsider and reverse their appalling decision."

Greek Secretary General of the Ministry of Culture, Education, and Religious Affairs, Giorgos Kalantzis, expressed his opposition to the decision. "As an Orthodox Christian, I feel deeply insulted by this issue, because it would be as if someone asked us to erase or modify for 'aesthetic reasons' the symbol of the cross on the tombs of our grandfathers executed by the Germans," he said.

A recent survey by the ADL in 100 counties found that 69 per cent of Greeks hold anti-Semitic opinions, with 60 per cent agreeing that Jews "talk too much about what happened in the Holocaust".