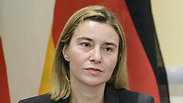 Federica Mogherini
Photo: EPA
The European Union wants a more active role in seeking peace between Israel and the Palestinians, the bloc's foreign policy chief Federica Mogherini said on Monday on the eve of her visit to the region.

Six months into her tenure, the 41-year-old former Italian foreign minister is eager to leverage Europe's position as Israel's biggest trade partner and as the Palestinians' main aid donor after last year's failure by the United States to make progress in the latest efforts to broker a two-state peace deal.

"My very early visit has a political meaning," Mogherini told a news conference following an EU foreign ministers' meeting in Brussels where she discussed the Middle East.

"The European Union is ready and willing to play a major role in a re-launching of this process on the basis of the two-state solution."

On Monday, Netanyahu appointed Interior Minister Silvan Shalom as Israel's negotiator in peace talks with the Palestinians, a position previously filled by Zionist Union's Tzipi Livni.

Some EU diplomats believe Mogherini, who meets Prime Minister Benjamin Netanyahu and Palestinian President Mahmoud Abbas on Wednesday and Thursday, sees a chance for EU diplomacy in the absence of a major new push from Washington as President Barack Obama approaches his final 18 months in office.

However, the 28-nation bloc faces deep internal divisions over the Middle East. Many Palestinians see the United States as too close to Israel, while the Jewish state is wary of EU governments it views as too tolerant of Palestinian militants.

Criticized in Israel for past contacts with Palestinian leaders, Mogherini said on Monday she wanted to listen to both sides, especially following right-winger Netanyahu's formation of a new coalition government.

Some European states have grown impatient with Netanyahu, especially over continued expansion of Jewish settlements in the West Bank. Some have recently recognized a Palestinian state, while last week the Vatican decided to recognize the state of Palestine in a treaty for the first time.

Mogherini refused to be drawn on alternatives to the decades-old quest for a two-state solution:

"One thing is clear to everyone in the region," she said. "That the status quo is not an option."