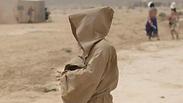 Be'er Sheva's administrative court on Monday ruled to approve holding the Midburn Festival – the Israeli equivalent to the Burning Man Festival - in the Negev, while setting limits for its organizers.

Disagreements between police and event organizers arose after the former demanded that security cameras be placed at the site and that participants be prevented from stripping nude.

Judge Rachel Barkai said in her ruling that the police's stance against public exposure was understandable, but also ruled that there was no reason to prevent attendees from undressing in a facility closed to minors.

The festival, which is to begin on Wednesday and continue until the weekend, is Israel's corollary to the Burning Man festival that takes place in Nevada.

Police noted with concern that during last year's festival, some participants were naked and committed sexual acts. Police further claimed that the festival was a public event, and that nudity was therefore prohibited.

The police even presented the court with the festival's events calendar, which stated that one area will have group erotic activity.

Attorneys for the event organizers, lawyers Eli Unger and Itzik Harel, proposed that the activity be limited to closed facilities, but the police opposed the idea.

Judge Barkai noted that there is no law forbidding nudity as such, and explained that she understood the police's desire to prohibit nudity out of concern for public safety and to protect minors. She ultimately decided to allow festival participants to be nude as long as it was in a closed area that minors could not enter.

The police request for security cameras was partly granted. Event organizers said this would be a serious invasion of privacy, but Judge Barkai said that privacy could be ensured and that cameras could be installed in places that do not record the personal living areas. Cautionary signs will therefore be posted in areas covered by cameras.

Police also sought to ban trailers for logistical reasons, but the court decided to allow them, pointing out that families with children should be taken into consideration.

Israel's Midburn Association has around 10,000 people in the country. This year's festival is the second and will take place near Sde Boker in the Negev. Around 6,000 Israelis, as well as roughly 400 tourists from 48 countries, are expected to arrive.

A temporary city has been created in the desert for the festival to allow five days of community life, creativity, and art. The event is organized by volunteers and will include areas devoted to art, performances, and interactive exhibits.

As an expression of radical principles, the exhibits will be burned at the end of the festival to represent creation that is not motivated by the desire to amass property, status, or money. At the festival's conclusion, a massive human figure made of wood will be burned.