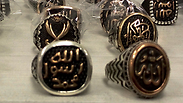 Photo: Israel Customs Spokesperson
Photo: Israel Customs Spokesperson
A package was intercepted two weeks ago by customs employees at Ben Gurion International Airport, containing some 120 rings that bore Arabic messages connected to the Islamic State organization that remains a military threat in both Iraq and Syria.

The rings made of silver were produced in Turkey and ordered by an importer in Ramallah. Customs officials announced that they will be destroyed sometime in the next few days. "The thought that there are people who affiliate themselves with a murderous agenda like ISIS is simply shocking," said a source in customs.

The package that arrived from Turkey was already marked as suspicious upon arrival in Israel. A custom employee explained in a conversation with Ynet on Tuesday that when a package arrives destined for the West Bank, it's checked according to strict procedures. "Everything that comes for the Palestinian Authority is put through a security check," said customs. The package first passed through an x-ray machine and appeared to be fine.

Then one of the custom employees who is well-versed in Arabic, saw what was written on the rings and voiced his shock. "We immediately passed it to the security department," said an employee. "Although the importer declared the items as rings, it's considered to be incitement. We're talking about a Palestinian civilian and we have no right to open an investigation so we sent him a letter that the items would be destroyed and he has 30 days to appeal. Of course we also informed security forces and the Shin Bet immediately."

Although this package only contained rings, customs said Tuesday that they feel satisfied with their work. "A large number of rings mean that there are buyers. It's scary and shocking to know that in the lands of the Palestinian Authority there are those who support that murderous organization. And who knows? Maybe with our help they'll discover a cell or ideological organization of ISIS," said a customs security employee.