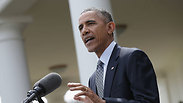 Barack Obama announcing the nuclear agreement with Iran
Photo: AFP
A senior Israeli official took a swipe at Washington on Tuesday over Iran's purchase of second-hand civilian aircraft, saying the acquisition violated US sanctions and went ahead despite a tip-off from Israel.

Iranian Transport Minister Abbas Akhoondi was quoted on May 11 by the Iranian Students News Agency as saying Tehran bought 15 used commercial planes in the last three months. He did not say who sold them or how they had been acquired.

More on this topic:

A long-standing ban on the export of aircraft spare parts to Iran was eased under an interim nuclear deal between Tehran and world powers in late 2013, but the US sanctions regime continues to restrict sales of planes.

"Israel learned from intelligence sources about this very significant breach of the sanctions in advance of it occurring," said the Israeli official, speaking on condition of anonymity.

"We flagged the issue to the US administration," the official said. "Unfortunately, the deal still went through and there was no success in preventing it."

American and Iranian officials could not immediately be reached for comment.

The Israeli official's comments appeared to be an attempt to portray the United States as being lax in enforcing current economic restrictions even as it promises to reimpose them if Iran fails to honour terms of a nuclear deal now under negotiation with six world powers including Washington.

Israel, Iran's arch regional adversary and widely believed to be the Middle East's only nuclear power, says Tehran cannot be trusted to honour such an agreement.

The official said the aircraft were sold to an airline that had been blacklisted by the United States "because of its involvement with the Iranian Revolutionary Guards" and Lebanon's Hezbollah guerrillas. The official did not name the company.

But the Iranian state news agency IRNA said on May 12 that Iran's Mahan Air -- which is blacklisted by Washington -- recently acquired nine used Airbus commercial aircraft. IRNA did not identify the seller.

London's Financial Times reported last week the deal was brokered through a complex series of arrangements with apparently unwitting companies across Europe.

The US Commerce Department first blacklisted Mahan Air in 2008 after it found that the firm had imported three Boeing Co 747 jumbo jets into Iran without US authorisation.

The US Treasury Department has also accused Mahan Air of ferrying troops, equipment and weapons to support the government of President Bashar al-Assad in Syria's civil war.

The United States, Britain, China, France, Russia and Germany, are in the midst of negotiations with Tehran to finalise a deal by June 30 aimed at preventing Iran from using its nuclear energy programme to develop atomic weapons, in exchange for an easing of sanctions.

Iran denies Western suspicions of seeking to develop a nuclear weapons capability, saying it is enriching uranium only for civilian atomic power.