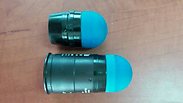 The IDF will soon introduce a new means for riot dispersal. Following a series of experiments recently performed by the military, the use of non-lethal ammunition has been approved as a method to avoid escalations of violence.

An Army officer told Ynet that the rubber bullet "is considered a more humane weapon".

The military has considered using the non-lethal method in the West Bank that is already used by Israeli police, but doubts regarding its lethality prevented its use.

Controversy over the issue arose after the death of 16-year-old Mohammed Sinokrot in East Jerusalem last year, whose relatives claimed he was struck by a police rubber bullet.

The tens of thousands of rubber bullets purchased by the IDF are intended for use by the Judea and Samaria Division, and will be deployed in the upcoming weeks, initially as a pilot program for border guard units.

Another change in crowd control measures used by IDF is the Ruger firearm, which specially authorized units can use to fire small lead projectiles into the lower body of a central instigator.

The rubber bullets to be used by the IDF will have a diameter of 40 millimeters (about 1.5 inches). Like the Ruger, units will require special authorization to use them. The minimum distance from a demonstrator must be seven meters (about 23 feet), with a range of a few dozen meters.