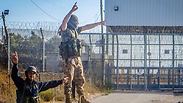 Al-Nusra Front fighters in Quneitra
Two attempts by Islamic State in Syria to take up positions along the Golan Heights border with Israel have been thwarted in the past two weeks. The two groups of IS-affiliated militants were threatening to expand the radical organization's sphere of influence close to the border with Israel.
The first Islamist infrastructure was taken out some two weeks ago south of Quneitra, where Syrian rebels managed to overcome an armed group from the IS-affiliated Jaysh al-Jihad organization.
The second group was taken out two days ago in the southern Golan Heights, where members of the Free Syrian Army, in cooperation with radical Islamic group Jabhat al-Nusra, overpowered IS-loyalists from the Shuhada al Yarmouk Brigades.
During the course of these recent battles against the IS-affiliated groups in the Golan, a number of mortar shells inadvertently landed in Israeli territory. In the past, when the so-called "spillovers" were the result of shells fired by the Syrian Army, Israel responded in an effort to signal to the regime in Damascus that it will not tolerate any violation of its sovereignty.
More on this topic:
Over the past two weeks, however, Israel has chosen not to respond to the incidents – presumably so as not to interfere and undermine the rebels' achievements against Islamic State.
Most of the fighting to prevent IS-affiliated groups from taking up positions on the Golan Heights and turning the area into a base for operations against Israel is being carried out by two rebel groups – the Free Syrian Army, which is deployed along the border fence with Israel and reportedly receives Israeli humanitarian aid; and Jabhat al-Nusra, a radical Islamic group viewed as hostile towards Israel.
That said, Israeli security officials claim that the Jabhat al-Nusra fighters operating in the Golan are simply local residents who joined the organization to benefit from the logistical and financial support it offers them.
And in the past, Syrian regime officials accused Israel of aiding Jabhat al-Nusra when the organization ousted President Bashar Assad's forces from most of the areas adjacent to the Israeli border.
It's important to keep in mind, meanwhile, that the cooperation between the two rebel groups in the Golan is localized and focused only on areas in which Assad's army or Islamic State are trying to take control of parts of the Golan. For now, this cooperation is ensuring relative calm along the border with Israel.