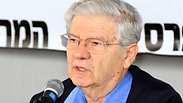 Aharon Barak
Photo: Sivan Farag
"I'd be very happy to meet with Ayelet Shaked, to sit down with her, to give her any piece of advice she'd like to hear from me, and to discuss any subject she wanted to talk about," says former Israeli Supreme Court president Aharon Barak in response to Shaked's recent appointment as justice minister.

"I've always believed that criticism of the Supreme Court is good and proper, but it must be pertinent," Barak, 79, says. "So I'd be happy to answer any criticism-related questions, to admit to the things she is right about, and for her to admit to the things she isn't right about."

Nine years since stepping down from the bench, Barak the citizen is concerned about the state of Israel's democracy. "It's important to remember that democracy is not simply majority rule," he explains.

"Democracy is majority rule when the majority functions to implement a particular set of values. A democracy that violates human rights is not a democracy in my eyes. In Germany in the early 1930s, the Supreme Court didn't have the power to overturn laws. I firmly believe that if Germany had had a strong court and judicial review at the time, Hitler could have been stopped. By the time he came to power, he couldn't be touched."

And are you saying that we need to protect the Supreme Court to prevent a similar situation here?

"No, I'm not saying that. I'm only saying that the existence of the Supreme Court as the guardian of individual and minority rights is one of the components of our identity as an eternal constitutional democracy. Democracy is a scale of sorts, on the one side of which sits the majority and on the others side of which sit rights; and democracy is the middle ground.

"The problem boils down to the fact that our constitutional structure is a very shaky and fragile one, and everything can be thrown into turmoil on the whim of any single MK who suddenly happens to secure a majority in the Knesset."