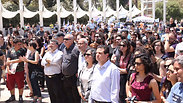 Nakba Day ceremony at Tel Aviv University
Photo: Motti Kimchi
Right-wing activists demonstrated against a ceremony at Tel Aviv University on Wednesday marking the Nakba, the day in which the Palestinians remember the "catastrophe" that led to the formation of the State of Israel and the exile of Palestinian refugees.

Some 200 Israeli Arabs and Hadash activists organized the ceremony, that took place outside the university's main gate. The protest was organized by right-wing organizations Im Tirtzu (whose goal is to strengthen and promote "Zionist values" throughout Israel), Lehava (Organization for Prevention of Assimilation in the Holy Land) and Fighting the Palestinian Lie.

Large police forces separated the two sides. Two people were detained by police after a right wing activist allegedly tried to take down the Palestinian flag flown during the ceremony, while an activist from the Nakba Day ceremony allegedly tried to take down a flag flown by the right-wing activists.

Fares Agrabiya, an accounting student who participated in the Nakba Day ceremony, said: "Recognizing the Nakba is the only way to solve the existing conflict and achieve peace in the future. In the ceremony, we sent a message to both Arab and Jewish students that there was a people living here in the past, and the land was not empty. We note the desire to bring back the refugees and those are important conditions to solving the conflict. Our ceremony was done without noise or shouting. Those who are weak are the ones always shouting."

The head of the Joint Arab Party, MK Ayman Odeh, said: "You can argue over all kinds of issues, but humanly speaking, you can't argue with the fact that the Palestinian people paid the heaviest price. The new state did not allow those who were exiled return. We ask to recognize the historical wrong and work to fix it without wronging others. This is our right."

Oren Halfon, the head of the Im Tirtzu faction at Tel Aviv University, described the Nakba Day ceremony as a "radical left-wing protest."

"Like every year, the radical left seeks to undermine the basis of our existence in the country, to claim the state was formed in sin after murder and exile, and to deny that the Arabs are the ones who attacked and wanted to commit a second Holocaust. We will fight for the truth."

Right-wing activist Baruch Marzel also attended the protest, saying "there used to be an Arab village here and now there is a university. All of the bleeding heart leftists who preach at me and tell me not to live in Hebron - they can stay here, but shut up."

Meretz activists were also present in protest against the right-wing demonstrators.