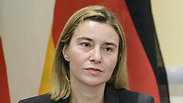 EU foreign policy chief Mogherini
Photo: EPA
Prime Minister Benjamin Netanyahu walked back from his controversial election day comments in a meeting with EU foreign policy chief Federica Mogherini on Wednesday. "I want peace. I am not for a one-state solution. I support the vision of two-states."

Yet the Likud leader also added that "Palestinians must recognize Israel as a Jewish State. I am committed to peace. We have taken steps to help the Palestinians, we will continue with these measures. I want a peace that will end the conflict once and for all."

The fourth-term prime minister then pivoted to his campaign against Iran's nuclear ambitions. "The peace and security of the world demands that we insist on a better deal with Iran. Even now sanctions are being lifted because of the agreement in Lausanne."

Mogherini said that the international community's efforts on Iran were intended to assure that Iran does not possess a nuclear weapon. She praised Netanyahu for his commitment to peace and said the EU was prepared to assist in renewing the negotiations between Israel and the Palestinians.