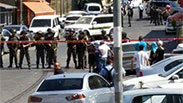 A vehicular terrorist attack at Jerusalem's At-Tur junction Wednesday was quickly ended by a well-placed bullet from the barrel of an Israel Border Police Sergeant's rifle. "A", the trooper who successfully ended the attack, watched the Palestinian driver mount the curb and hit three police officers - two male and one female - who were all lightly injured.

"I understood very quickly that this was an attack and that there wasn't a moment to lose," said A. "This was one of the events that we had prepared and trained for."

The two male police officers who were wounded were released from the hospital after receiving basic medical care. The female remains in Sha'are HaTzedek Hospital. "I saw the terrorist's car coming at some speed with the intention to hit the police. I acted quickly in order to prevent another attack on innocent people," said A.

The sergeant who fired his rifle through the vehicle's front window and killed the attacker, said, "One of the police who were wounded by the terrorist recovered quickly and together... we fired precisely and neutralized him. I have no doubt that the event finished like this because we were ready and prepared for every eventuality."

Deputy Commissioner of the Israel Border Police, Amos Yaakov, visited the three wounded officers in the hospital and praised their actions. "This is the third event within a month," said Yaakov. "These latest events prove that precision training and learning lessons from events of lone terrorists that come with no preliminary intelligence will start and end by the vigilance, professionalism and determination of the soldiers."

Yaakov added that, "Today, as with all the other attacks, the soldiers acted exactly as is expected of them and the prevented the terrorist from accomplishing his goal."

The female soldier who was hit by the vehicle said that she, "hopes for a quick and full recovery and I'm waiting to get back to service with my friends in my unit."

The terrorist was identified as Amran Abu Dhaim, 41, from the East Jerusalem neighborhood of Jabel Mukaber. His brother Shafik said," I don't believe that he attacked. It must have been an accident. He wanted to go for a drive and the police shot him." According to Shafik, his brother worked as a vehicular security officer with several Israeli transport companies. "He never talking about an attack and he didn't have any such intentions."