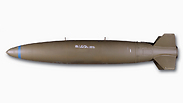 The US State Department approved a massive sale of bombs and missiles worth $1.897 billion, pending final congressional authorization. The procurement package includes bunker buster munitions and its timing suggests the Americans are seeking to alleviate Israeli concerns over the developing deal with Iran.

The colossal weapons deal is believed to also be intended to prevent vocal opposition by Israel and its allies to the commitments made by President Barack Obama at Camp David to arming Gulf states.

The pending package to Israel includes 3,000 Hellfire missiles for the air force's helicopters. During Operation Protective Edge, the US suspended a transfer of the air-to-surface missiles over its disapproval of Israel's campaign against Gaza.

The weapons deal will also significantly increase the Israeli Air Force's precision munitions cache, with hundreds of GPS and laser-guided bombs and missiles included in the package.

The Defense Security Cooperation Agency – a section of the Department of Defense – said it submitted the required certification to Congress on May 18. If approved by the US legislature, Israel will receive the massive shipment, which among other tactical weapons includes 50 BLU-113 Super Penetrator and 700 BLU-109 Penetrator bunker buster missiles.

The statement said that "the United States is committed to the security of Israel, and it is vital to US national interests to assist Israel to develop and maintain a strong and ready self-defense capability."

The Department of Defense added that "Israel, which already has these munitions in its inventory, will have no difficulty absorbing the additional munitions into its armed forces. The proposed sale of these munitions will not alter the basic military balance in the region."