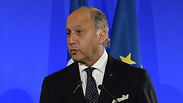 French Foreign Minister Laurent Fabius
Photo: AFP
France is pushing forward with its Middle East peace initiative, shortening the deadline for Israeli-Palestinian talks from two years to 18 months, French magazine Le Figaro reported on Wednesday.

French Foreign Minister Laurent Fabius recently presented the Arab League with a detailed plan to renew peace talks between Israel and the Palestinians.

The plan stipulates the formation of a Palestinian state in the pre-1967 lines, with swaps of mutually agreed upon lands similar in size, while taking into account Israel's security needs.

The French are seeking to achieve a "just, sustainable and global solution" to the conflict.

If a two-state solution is not reached by the end of the 18 months of talks, France will announce it is officially recognizing the State of Palestine.

A French source explained that the timeframe for the talks has been shortened in light of the escalation of violence in the West Bank, and with the hopes of seeing the initiative begin to bear fruit before French President Francois Hollande leaves office.

The French plan determines that both sides would have to define parameters that ensure the security of both Israel and Palestine, which would efficiently and effectively protect the borders, stop terrorism, and thwart the smuggling of arms.

These parameters would have to honor Palestinian sovereignty and include a full withdrawal of the IDF from Palestinian territories in stages over an interim period agreed upon by the two sides.

The French have stressed they were interested in reaching a final-status deal, and not another interim agreement that postpones the end of the conflict to an unknown date in the future.

Another issue the French initiative is one important to the Palestinians - the plan demands a "just, balanced and realistic solution to the issue of refugees," stressing the solution would have to be based on a "mechanism of compensation."

The French initiative remains vague on the issue of Jerusalem and mentions the necessity of the city being the capital of both Israel and the future Palestinian state.

The French plan calls for the two-state for two-peoples solution, but includes the demand for the Palestinians to recognize the Jewish nature of Israel. This demand has so far been rejected out of hand by the Palestinians.

French paper Le Figaro reported that the initiative's draft has been unofficially presented to London and Madrid as well.

In any case, the French peace initiative will not be officially submitted to the UN Security Council before June 30, the deadline for negotiations with Iran on its nuclear program. French sources said the US asked France to postpone the plan's submission so as to not raise difficulties in talks with Iran. Paris, however, was not willing to wait forever, the French sources said.