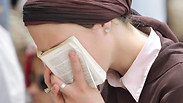 'The rebbe promised them they would be blessed with a child' (illustration)
Photo: Shutterstock
A resident of the ultra-Orthodox city of Bnei Brak in central Israel gave birth to her first child, a son, Monday morning – at the age of 65.

The woman and her husband had waited for an offspring for more than 45 years, and their miracle finally happened this week at the Meir Medical Center in Kfar Saba.

Heavy Burden

Every couple going through fertility treatments is forced to deal with mental, physical difficulties, but religious couples must also face social isolation, crisis of faith and halachic complexities.

Members of the Nadvorna Hasidic movement were very excited by the happy news of one of the community's families, but some did not seem very surprised, explaining that "the rebbe promised them before he died that they would be blessed with a child – and it happened."

The couple, S. and H., were married when he was 21 years old and she was 19, but failed to have any children since then. Their fertile years were over, friends their age were already marrying off their children and grandchildren and even welcoming great grandchildren – but the couple would not despair. S. and H. kept dreaming, praying and trying again and again with the help of fertility treatments, while drawing a lot of strength from the rabbi's promise about four years ago.

Nadvorna Hasidim say the couple received a blessing from the former rebbe, Rabbi Yaakov Issachar Ber Rosenbaum, who died in 2012, in which he explicitly stated that they would have children. Since then, they had been waiting faithfully for the promise to be fulfilled. Until Monday morning.
'Entire Hasidic movement is shocked'
"He is a very quiet and gentle person," one of the Hasidic movement's activists told Ynet about the husband, "but he was always fully confident that it would come. Naturally, everyone felt sorry for him, but he is a very strong person and he never broke down or entered a state of grief over it."

"The rebbe and all the Hasidim are on a historic journey to Ukraine," the activist said. "They are dedicating a Torah scroll this week in the tent where the Hasidic dynasty's founder, who died 120 years ago, is buried. There, among the tombs of the just, they received the good news from Bnei Brak – and drank a toast. The entire Hasidic movement is shocked."

The family's associates prefer not to elaborate on the fertility treatments the couple went through, including the egg donation the woman needed – perhaps for fear of an "evil eye" or because the Health Ministry restricts these treatments up to the age of 45, and expects private physicians to do the same.
'Woman didn't get pregnant in Israel'
"In Israel, it's illegal to help a woman get pregnant at this age, and she did it abroad," Dr. Tal Biron, a physician of obstetrics and gynecology at the Meir Medical Center, told Ynet on Monday. "She arrived at my clinic when she was 12 weeks pregnant. It was a complicated pregnancy, but it ended well. Today we decided to end the pregnancy in a Caesarean section, after the fetus reached week 36 in which we are no longer afraid of premature baby complications."

Dr. Biron added that "this is definitely an old age to have a baby, and it's not a recommended age for being pregnant. Women this age usually have a higher blood pressure, they are overweight and suffer from other disorders, so it's a more dangerous pregnancy.

"Pregnancy creates a very significant effort for the body. All the systems work more intensely to provide everything that is needed, and it could be problematic. As far as I know, she is the oldest woman to give birth in Israel – but I'm not familiar with all the births."

Dr. Biron also expressed her reservations, saying that "on the general level, this is not an age to have children in, and we have to think about what happens to such a child from an ethical perspective, to ensure that the child has the right to grow up in a family which can raise him to a mature age and that he won't have to take care of his parents at an early age.

"On the other hand, we are talking about a very special and nice couple, and a woman who is young at heart and who fulfilled an years-long dream. She did everything to keep the pregnancy, and I'm sure she will be an excellent mother. There is a lot of excitement."