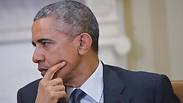 US President Obama
Photo: AFP
US President Barack Obama believes he must speak out about his differences of opinion with Israel's leadership out of deep concern for the state and the Jewish people, he told the Atlantic's Jeffrey Goldberg in a far-reaching interview published Thursday.
"I care so deeply about the State of Israel, precisely because I care so much about the Jewish people, I feel obliged to speak honestly and truthfully about what I think will be most likely to lead to long-term security, and will best position us to continue to combat anti-Semitism," he said "I make no apologies for that precisely because I am secure and confident about how deeply I care about Israel and the Jewish people."
The president also accepted that he was ultimately responsible for imminent agreement on Iran's nuclear program, which seeks to stymie any Islamic Republic desire to develop atomic bombs.
"Look, 20 years from now, I'm still going to be around, God willing. If Iran has a nuclear weapon, it's my name on this," he said. "I think it's fair to say that in addition to our profound national-security interests, I have a personal interest in locking this down."
Obama conceded that Iranian Supreme Leader Ayatollah Khamenei is "anti-Semitic", but warned that this did make the regime's behavior entirely irrational.
"The fact that you are anti-Semitic, or racist, doesn't preclude you from being interested in survival… and so the fact that the supreme leader is anti-Semitic doesn't mean that this overrides all of his other considerations."
On his fractious relationship with Netanyahu, Obama told Goldberg that when Netanyahu said in the final days of his bid for reelection that "a Palestinian state would not happen under his watch, or (when) there was discussion in which it appeared that Arab-Israeli citizens were somehow portrayed as an invading force that might vote, and that this should be guarded against—this is contrary to the very language of the Israeli Declaration of Independence, which explicitly states that all people regardless of race or religion are full participants in the democracy."
The US president said that, "when something like that happens, that has foreign-policy consequences, and precisely because we're so close to Israel, for us to simply stand there and say nothing would have meant that this office, the Oval Office, lost credibility when it came to speaking out on these issues."
He also rebuffed critics of this policy. "I think that some of those folks may sincerely believe that the Jewish state is consistently embattled, that it is in a very bad neighborhood and either you're with them or against them, and end of story. And they may sincerely believe it."
Obama dismissed the claims that criticism of certain Israeli policies should be kept behind closed doors.
An "argument that I very much have been concerned about, and it has gotten stronger over the last 10 years ... it's less overt than the arguments that a (US Jewish Republican donor) Sheldon Adelson makes, but in some ways can be just as pernicious, is this argument that there should not be disagreements (between the US and Israel) in public," he said.
In fact, the president added, the true Israeli ethos was far removed from a policy of isolation and indifference, and in line with his own values:
"(T)o me, being pro-Israel and pro-Jewish is part and parcel with the values that I've been fighting for since I was politically conscious and started getting involved in politics. There's a direct line between supporting the right of the Jewish people to have a homeland and to feel safe and free of discrimination and persecution, and the right of African Americans to vote and have equal protection under the law. These things are indivisible in my mind.
"But what is also true, by extension, is that I have to show that same kind of regard to other peoples. And I think it is true to Israel's traditions and its values—its founding principles—that it has to care about those Palestinian kids. And when I was in Jerusalem and I spoke, the biggest applause that I got was when I spoke about those kids I had visited in Ramallah, and I said to a Israeli audience that it is profoundly Jewish, it is profoundly consistent with Israel's traditions to care about them. And they agreed. So if that's not translated into policy—if we're not willing to take risks on behalf of those values—then those principles become empty words, and in fact, in my mind, it makes it more difficult for us to continue to promote those values when it comes to protecting Israel internationally."