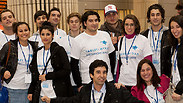 Taglit-Birthright participants at Ben-Gurion Airport
Photo: Yotam Frum
A historic number of young French Jewish adults will be arriving to Israel this summer on the Taglit-Birthright Israel program. The educational organization will bring 1,500 French Jews to Israel to learn about the Jewish state and immerse them in their Jewish heritage.

"This is the largest number of French Jews to ever come on the program," Recruitment Director, Emmanuel Sion told Tazpit News Agency. "In 2013, we only had 82 participants and last year, we had 940 summer participants."

Europe's largest Jewish community is located in France, which has an estimated population of 500,000 Jews.

"The Jewish community in France is in a crisis. Many young Jews are asking themselves about their future and what their place is in French society due to the anti-Semitism," Sion told Tazpit.

This past winter, 550 French Taglit-Birthright Israel participants toured Israel. One of the participants, Yoav Hattab, 21, had just returned to France after his Taglit-Birthright visit in Israel, when he was murdered two days later in the Hyper Cacher kosher supermarket in Paris on Friday, January 9.

The son of the Chief Rabbi of Tunis, Hattab, was buried in Jerusalem along with the three other French Jews killed in the Paris terrorist attack carried out by a radical Islamist.

According to Sion, during their 10-day trip to Israel where the groups will explore Israel from the north to the south, there will also be a special stop to Yoav Hattab's grave in Jerusalem's Har HaMenuchot cemetery.

"This is a very important trip for the 1,500 young Jewish adults coming to Israel," he said.

Organizers hope that the young French Jews participating, ages 18-26, will return to France with a deeper sense of pride and clearer understanding of the Jewish people and Jewish values. "Many of the participants have studied in non-Jewish schools and don't necessarily know that much about ancient or modern Israel history," Sion told Tazpit.

"The Taglit trip will strengthen their connection to Israel and their Jewish identity. These participants will be able to go back to France and strengthen the Jewish community there," Sion said.

Other participants, according to Sion, are considering making aliyah to the Jewish state or may move to another country. "Israel is the country that many Jews in France are strongly considering in their future."

"Taglit-Birthright Israel is taking a strategic position to invest and significantly increase its actions to bring more young Jewish adults to Israel from France and will continue to do so under any circumstances," explained Taglit-Birthright Israel CEO Gidi Mark.

In addition, Taglit-Birthright Israel is expecting 30,000 young Jewish adults from around the world to participate on its 10-day educational tours, beginning from early May to mid-September this year. Participants will hail from the US, Canada, France, Russia, Ukraine, Spain, Italy, Germany, Switzerland, Brazil, Argentina, Austria, Australia, Mexico, Spain, Panama, UK, India, Netherlands, Hungary, South Africa, and other countries.

A consistent rise in numbers over the past 15 years will have Taglit-Birthright Israel welcome its 500,000th participant during this summer session.

Reprinted with permission from the Tazpit News Agency.