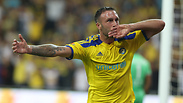 Maccabi Tel Aviv match
Photo: Oren Aharoni
Israeli soccer players published a video Thursday appealing to FIFA to dismiss the Palestinian bid to expel Israel from the international football's governing body.

The video, uploaded ahead of the annual FIFA Congress on May 28, by The New Organization of Football Players in Israel, calls on FIFA to leave politics off of the soccer pitch and "Play the ball not the state."

"Football is universal, we leave the politics aside to play football," players are heard saying in English. "Football is a beautiful game, so please don't spoil it, all of us together: Jews, Muslims and Christians."

Similar messages are repeated in Hebrew and Arabic by a culturally diverse set of players.

The Palestinians have sought a vote at the FIFA Congress claiming abuse of Palestinian footballers by Israel.

FIFA President Sepp Blatter has made it clear he opposes the vote but that "a solution is only a realistic proposition when those who are privileged are prepared to concede something and contribute to equality.

"The onus in this respect is on Israel with its outstanding infrastructure, fully functioning professional league and economic context," Blatter wrote in his weekly column for a FIFA magazine.

The Palestinians, who have been FIFA members since 1998, want world football's governing body to bar Israel from international competition over its restrictions on the movement of Palestinian players.

It also opposes the participation in the Israeli championships of five clubs located in Jewish settlements in the occupied West Bank. The clubs play in the third and fourth divisions.

The motion will need a three quarters majority to be passed at the FIFA Congress in Zurich.