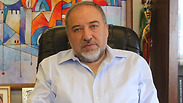 Photo: Gil Yohanon
Photo: Gil Yohanon
There are many things one could say about MK Avigdor Lieberman (Yisrael Beiteinu), but there's one thing that has to be said to his credit: He is the only Israeli parliamentarian who willingly joined the opposition. The Knesset has yet to internalize the change. Until he is assigned a permanent office as a rank-and-file MK, Lieberman will continue to use the foreign minister's Knesset chambers – right next door to the prime minister.

My colleague Shimon Shiffer and I met with Lieberman this week.

"One of the ministers spoke with me on the phone yesterday," Lieberman told us. "He asked me to explain how I can speak about the death penalty for terrorists and a peace settlement in the same breath.

"People don't get me – and that's part of the issue. You see that picture hanging on the wall, right? (Ze'ev) Jabotinsky. We need to be both cruel and generous, Jabotinsky used to say. I'm willing to be generous only if I'm cruel too. We aren't Luxembourg. We have to be cruel. Why is it that a jury in Boston – Boston, not Alabama – can sentence a terrorist to death but we can't? We do the exact opposite. We're not willing to give and we're not willing to kill."

We understand what you mean in terms of being cruel, we said to him; but what are you willing to offer in terms of generosity?

Lieberman responded by talking about the war the Kurds are waging in Iraq and Syria. "This is a classic example," he said. "We don't know how to be generous. We used to control the entire Middle East. Today, it's like we don't even exist. Everyone is too scared of commissions of inquiry. Everything's too square and rigid."

"I tried to explain to foreign ministers around the world that the best thing they could do to promote a peace settlement in the Middle East is to forget about us. All of their proposals and ideas and parameters have brought nothing but destruction. Don't interfere. We can work against Iran along with Saudi Arabia, Egypt, the Gulf States; we can work together to develop the region. Together, we can change the world."

You held a series of secret meetings in Europe with officials from the Gulf States. What did you learn?

"When you sit down with them behind closed doors, they talk just like us. When they met with (US President Barack) Obama this week, they spoke about Iran in the same terms we do – only in much harsher words. At present, there are zero gaps between us and them."

That's not what they are saying.

"Because they have yet to cross Rubicon. That's all that remains for them to do – to cross the Rubicon, to go from secret talks to open relations. There's still a way to go before they cross the Rubicon, but I'm not discounting the achievements we've already made.

"It'll take a little time. But they'll get there in the end. Not because of us, but because of their own interests. They see what's happening in Libya, Syria and Yemen. There's a knife at their throats. They also see how they are treated by the United States. Washington betrays its allies, and we do the same.

"If the moderate states in the Arab world wish to survive, they have to fight. Airstrikes are not enough. They need to fight on the ground too."

Lieberman firmly believes that the US administration will be in no hurry to resume its involvement in the peace process with the Palestinians.

"For the past year, the Americans have been passive – even (Secretary of State John) Kerry, who has enough on his plate elsewhere," said the former foreign minister. "Look how often he visited here at the start of his term in office as opposed to how often he is visiting now. He realizes he won't be able to achieve everything."

Lieberman hasn't toned down his views on Israel's Arab population and its political leaders since making the move to the ranks of the opposition. The very opposite, in fact, may be true.

"I don't have a problem with Arabs," he said. "I have a problem with state's attitude towards them. I believe that (Joint Arab List leader) Ayman Odeh is a threat to our existence. Odeh and Mohammed Barakeh speak in different tones in Hebrew, but they are one and the same. They are like (Hassan) Rouhani and (Mahmoud) Ahmadinejad.

"If the head of Odeh's public relations team says that Islamic State and Zionism are the same, and Odeh isn't willing to denounce such a statement, that's all that needs to be said. He isn't willing to condemn Haneen Zoabi either. And he refused to sign a surplus vote deal with Meretz because it is a Zionist party. When speaking in Arabic, he incites against any Arab who is willing to volunteer for national service. We ignore the things he says in Arabic.

"There are many among the Arabs in Israel who think differently. They are afraid to speak out because they believe that the Jews can't be trusted, that we'll leave them in the lurch in the end. That's how things go in the Middle East. The only time I felt ashamed to be a Jew was when I sat down for a long talk with Antoine Lahad, the commander of the South Lebanon Army. He told me how Israel had played him."

As for his criticism of Benjamin Netanyahu, we left that for another time. He's spoken about that a fair deal already over the past few weeks.