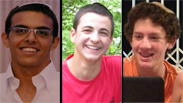 From left: Eyal Yifrach, Gil-Ad Shaer, Naftali Frenkel
Photo: Shaul Golan
Families to honor memory of kidnapped Israeli teens with 'Unity Day'
Jerusalem mayor and families of Gil-Ad Shaer, Naftali Frenkel and Eyal Yifrach seek to bring back sense of togetherness in June 3 event; Jerusalem Unity Prize to be given organizations and individuals who promote message of unity through their work.
The families of the three Israeli yeshiva students who were kidnapped and murdered by Hamas terrorists will honor their memory on June 3 by promoting the message of unity and togetherness among the Jewish people.
Unity Day and the Jerusalem Unity Prize, organizers said, aim to promote tolerance and cooperation between different sectors of the Jewish people in Israel and the Diaspora.
The prize winners, organizations and individuals who have excelled in promoting messages of unity through their work, will share an NIS 300,000 award in a ceremony to be hosted by President Reuven Rivlin.
The projects were organized by Jerusalem Mayor Nir Barkat along with the parents of Naftali Frenkel, Gil-Ad Shaer and Eyal Yifrach. The boys were abducted from a bus stop south of Jerusalem by two Hamas terrorists, who killed them and hid their bodies soon after taking them.
"Jews from around the world came together to support their families by searching, praying, and just reaching out. The sense of unity reached its peak 17 days later as the three boys were found and ultimately laid to rest side by side," a joint message from the parents said.
"Now, one year later, the families of the boys are asking the Jewish people to come together again. Together with, Nir Barkat, the Mayor of Jerusalem and Gesher, we will honor the teens' memory by joining in 'Unity Day' to bring back that sense of togetherness and hope."
"The Jerusalem Unity Prize and Unity Day serve to memorialize the three boys by strengthening the common bonds that exist within our Jewish people and encourage greater tolerance and mutual respect between all sectors of our greater community," Barkat wrote in a statement to the Tazpit News Agency.
Barkat lauded "the ideals that were so remarkably exhibited during that most difficult period in the wake of the boys' kidnappings and truly revealed this all-important aspect of our national identity."
The students' parents and families were acclaimed both in Israel and across the Jewish world for their strength and humility, both during, and after the 18-day ordeal in which the fate of their sons remained unclear.
"The kidnappings of our boys marks one of the more difficult moments in Israel's modern history. But the reality is that out of this bitter tragedy came a spirit of unprecedented unity amongst the Jewish people," the parents said in a joint statement.