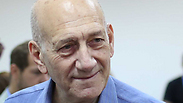 Photo: Noam Moshkowitz
Photo: Noam Moshkowitz
Jerusalem District Court on Monday sentenced former Prime Minister Ehud Olmert to eight months in prison and another eight months probation in the so-called Talansky case, in which he was accused of accepting envelopes filled with money from American Jewish businessman Morris "Moshe" Talansky.
Olmert was acquitted in 2012 due to reasonable doubt, but the judges overturned their decision two months ago, following the prosecution's appeal, which was based on Olmert's former bureau chief Shula Zaken's testimony.
Olmert was found guilty of taking hundreds of thousands of shekels for private use while serving as Minister of the Economy. Most of this money came from businessman Morris Talansky. The former PM didn't report to the state comptroller receiving the money as required by law, and he is guilty of graft, aggravating circumstances, fraud and breach of trust.
Olmert decided not to testify in the new trial but did speak during the punishment pleas. "I believe that there is no harsher punishment than what I have been going through these last years", Olmert stated to the court. "For almost a tenth of my life I've become a punching bag, and each punch, in certain circles, received sympathy and support.
"Throughout these years I had to amass strength in order to defend myself, to support my growing family and my spouse. What will I say to my grandchild (when) children talk about his grandfather and he is damaged and helpless? How does one explain to one's granddaughter why teachers humiliate her due to what they saw on the news the night before?"
Former Prime Minister Ehud Olmert was sentence Monday to eight months in prison and another eight months probation in the Talansky affair. Olmert was found guilty of accepting bribes in cash from businessman Moshe Talansky.
The former prime minister was also found guilty of graft during his time as Mayor of Jerusalem in the "Holyland Affair".