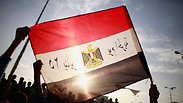 Photo: Reuters
Photo: Reuters
An Egyptian journalist dressed as a religious Jew, complete with a beard, hat, and side curls and took to the streets of Egypt, receiving mixed reactions from the public in a video produced by popular Egyptian news website Dotmsr and uploaded last week.

The video shows the journalist asking for directions to the synagogue, inspiring reactions ranging from harassment to warnings that he should not be so public about his Judaism.

The journalist carried a piece of paper with Hebrew writing on it and claimed to be from Yemen. Most in the video seemed at least surprised and suspicious of his request while a group of younger people physically harassed him and others yelled at him to, "get lost."

One man in the video was more understanding however, and told the Dotmsr journalist, "You are the best."

A coorelating article on the news website asked the question, is the treatment of Muslims in Europe and America similar?