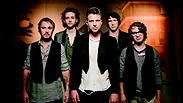 One Republic is gearing up for their upcoming show in Israel
One Republic excitedly boarded their flight to Israel on Monday morning and posted on their Facebook page United's in-flight menu in Hebrew. Their post says, "En route to Tel Aviv!" In their first-ever visit to Israel they will be appearing at Yarkon Park in Tel Aviv at 9 pm Thursday.

As part of their Native tour, after Tel Aviv, they are headed to Turkey, Macedonia, Bulgaria, Serbia and the other major European countries.

OneRepublic is considered one of the rising bands in recent years, mainly thanks to its most successful single, "Counting Stars," which made it to the top of the charts in many countries.

The group has produced many international hits over the past few years which have become an inseparable part of Israeli radio stations' playlists.

One Republic was founded in Colorado in 2002, when it began playing shows throughout the Los Angeles area. In 2007, it released its debut album, "Dreaming Out Loud," with the big hit "Apologize," which was remixed by American rapper Timbaland and became a huge international success, reaching No. 1 in 16 countries.

The album's second single, "Stop and Stare," was a big hit too, selling more than two million digital downloads worldwide.

In 2009, OneRepublic released its second album, "Waking Up," which produced more internationally successful singles such as "All the Right Moves", "Secrets" and "Marchin On."

The band's third album, "Native," was released in 2013 and includes its biggest hit in recent years, "Counting Stars." The song reached the top 10 in 20 countries and became one of the most played songs of the year.