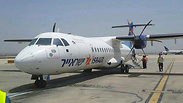 Israir plane grounded after engine failure
Photo: Airports Authority
An Israir Airlines plane was confiscated in Lisbon on Monday night following a claim by EuroAtlantic Airways that the Israeli company owes "tens of millions of euros".

Sources told Ynet that the seizure of the plane led to the cancellation of a flight from Eilat to central Israel, leaving dozens of Israelis stranded in the southern city.

The timing was unfortunate for Israir, which saw another one of its planes make an emergency landing earlier in the day because of a faulty engine.

According to Portuguese media, EuroAtlantic CEO Tomaz Metello confirmed that the seizure had occurred because of past debts. Mettelo claimed that a court ruled in favor of his company in December regarding an alleged seven-year-old debt.

"Despite the ruling, they did not pay, and that is why we seized the plane," Mettelo was quoted as saying.

According to Portuguese media, the confiscated plane is an Airbus A320.

Because two of Israir's six planes are currently out of commission, Israir flight 6H42 from Eilat to Ben-Gurion Airport was cancelled on Monday night.

Israir CEO Uri Sirkis told Ynet the company was surprised by the Portuguese move.

"This is a story that started almost eight years ago, when we leased a plane from EuroAtlantic for flights to the US. A month later we returned the plane for different reasons," said Sirkis, who was headed to Portugal Tuesday.

"The company sued Israir at court and the suit was rejected. EuroAtlantic did not give up and appealed to the Supreme Court in Portugal that decided last December that Israir needed to compensate EuroAtlantic - a decision we appealed," he added.

"The legal proceedings are still ongoing so we were very surprised when EuroAtlantic decided to make such an extreme and violent move and seize the plane," Sirkis went on to say.

"This morning, when the plane landed, it was confiscated as soon as the passengers alighted. We put our passengers in hotels and some we flew home last night."

Sirkis went on to say that Israir contacted the Portuguese Tourism Ministry, and involved the Israeli Foreign Ministry and the Portuguese Embassy.

"We used all possible channels, including the Foreign Ministry, Portugal's Embassy in Israel and Israel's Embassy in Portugal, but the Portuguese insist," he said.

"The passengers come first, and hurting the passengers and seizing a plane on their expense is an unacceptable move in this field. We will deal with it in a way that causes the less damage to the passengers as possible."

Israir stated that the company was required to pay some 2 million euro to EuroAtlantic, "Israir allocated the said sum in its books in 2014 and even made preparations concerning cash flow. It should be made clear that the reason the plane was detained was not a financial operational debt to the Airport Authority in Lisbon or its providers."