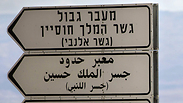 Allenby Bridge border crossing
Photo: AP
Five Israel Airports Authority security employees were caught stealing from Palestinians who were entering Israel from Jordan through the Allenby Bridge border crossing, Ynet learned on Tuesday.

They were fired following an internal investigation, but the Authority did not file a complaint with the police against them.

"The Authority decided to take the law into its own hands," one of the crossing's employees said.

The Israel Airports Authority launched an internal investigation in February following complaints on theft from Palestinians who underwent security checks at the crossing.

The five employees admitted that they stole from Palestinians going through the border crossing over a long period of time, saying they took tobacco and other personal items.

The theft occurred while the Palestinians placed their luggage at the baggage screening machine.

Despite the severity of the security employees' actions, the Israel Airports Authority did not turn to the police, nor did it file complaints against them.

"This is not the first time the Airports Authority fails to pass criminal cases to the police's handling and instead chooses to take the law into its own hands," a source at the border crossing said.

"In such a case, when such serious harm was caused to the Palestinians, the police must be involved. I guess since these are Palestinians, the Authority did not consider this very grave."

The Allenby Bridge border crossing is the most southern crossing on the Jordan River and serves the Palestinian population and tourists, as Israelis are not allowed to go through the crossing. In addition, goods going between Israel, the Palestinian Authority and Jordan also go through the border crossing.

The Israel Airports Authority said in response that "a probe done by the Airports Authority found that five employees of a private contractor took tobacco from the travelers' bags. The Authority conducted a comprehensive examination with the employees, and their employment was terminated after it was discovered they took tobacco during security checks of the travelers' luggage and took it out of the terminal for their private use."

The Authority said it views the case gravely, "and is initiating action to prevent such phenomena, and does not show leniency on ethical issues."