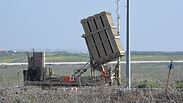 Iron Dome. US sponsored
Photo: Avihu Shapira
Against the backdrop of the nuclear deal in the works with Iran, Israel's defense establishment has started to put together the compensation package that Jerusalem will demand in return from the United States.
Sources in the know believe that Israel will be seeking a significant increase in the military aid package it receives from Washington – from $3.1 billion a year to $4 billion. This figure does not include special grants that the United States passes on to Israel for the development and procurement of missile defense systems like the Iron Dome, David's Sling and Arrow 3.
More on this topic:
Israel, explain US administration officials, has already come to terms with the fact that a nuclear deal with Iran will be signed within the next two months or so, and Jerusalem is readying for the day after. And indeed, the Israel Defense Forces' Planning Directorate is drawing up a long list of so-called "compensation components" intended to bolster Israel's security in the wake of the deal with Iran as well as the arms deals between the United States and Saudi Arabia and the Gulf States.
Israel's decade-long military aid deal with the United States is due to expire in 2017. Until recently, Israel had planned to ask the next US government – the one that will replace the Obama administration – to extend the current deal by another 10 years. However, in light of the huge arms deals that the Americans have signed with the Gulf States and Saudi Arabia, Israel now plans to ask for a larger aid package within the next few months.
Israeli officials believe that within weeks of the signing of a deal with Iran, the UN Security Council will lift the sanctions that have been imposed on Tehran, with the European Union expected to act accordingly soon thereafter. Some European states, in fact, are behaving like a deal has already been signed and are currently involved in intensive meetings with Iranian officials to discuss normalizing relations.
The US administration, on the other hand, won't have an easy time lifting the sanctions imposed by Congress.
Israeli defense establishment officials expect the Obama administration to be very generous with Israel – partly because Jerusalem has been forced to come to terms with the deal in the works with Iran, even if it is not willing to publicly admit so.
One of the first signs of a softening in Washington's attitude towards Israel was the Obama administration's decision over the weekend to thwart Egypt's effort to push through a document calling for a nuclear-free Middle East.
In addition, as part of its show of goodwill towards Israel, the US administration announced a week ago the approval of a large arms deal with Israel that includes smart bombs and anti-tank missiles.