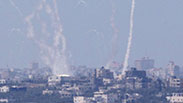 The Israel Air Force struck four targets in the Gaza Strip early Wednesday morning in response to rocket fire at southern Israel the previous night, IDF spokesman said.
The IAF strike targeted Hamas and Islamic Jihad targets, and accurate hits were identified, the army said. "If there is no calm in Israel, the Gaza Strip will pay a heavy price for it, one that causes anyone who chooses to challenge us to regret it," Defense Minister Moshe Ya'alon said.
Egyptian sources quoted by Palestinian news agency Ma'an said Cairo has asked Jerusalem to halt its "aggression" in the Gaza Strip and show restraint following the Israeli counterstrike.
Damage caused by IAF strike (צילום: רויטרס)
Code red sirens sounded in Ashdod and Lachish near Kiryat Gat in southern Israel Tuesday evening just after 9 pm. An IDF Spokesperson confirmed that one rocket fired from Gaza had landed near Gan Yavne.
Police said that there were no reports of damages, but one 15-year-old arrived at Barzilai Medical Center in Ashkelon suffering from shock.
Tuesday's attack was the first time since last year's 50-day Operation Protective Edge in Gaza that a medium-range Grad rocket was fired into Israeli territory.
Defense establishment sources said the rocket was likely fired by an errant Palestinian faction, but Ya'alon stressed, "Hamas is responsible" for everything that happens in the Gaza Strip.
"It would be best for Hamas to work to rein in any attempt to fire at Israel or any provocation against Israel, otherwise we will have to act with greater power," Ya'alon added.
Hamas media outlets reported that the organization began evacuating all its security headquarters for fear of an Israeli reprisal to the attack. The evacuation was expected to continue into the morning hours.
The IDF confirmed the attack and that the rocket had landed in an open area.
Gan Yavne Regional Council head Dror Aharon held a situation assessment with the southern district commander in the Home Front Command, at the end of which the decision was made to open public shelters. The IDF clarified, however, that the Home Front Command did not instruct to open shelters at this time.
The Ashdod municipality decided to operate its educational institutions without change on Wednesday, except for ones not equipped with rocket-protection. In Ashkelon, school will be open as usual.
One resident in Lachish said, "There was a siren and we heard a big explosion." A woman in Be'er Tuvia however, just several kilometers from Gan Yavne and the site where the rocket reportedly struck said, "I didn't here any sirens, just a really loud explosion."
Another resident from Kibbutz Hatzor said, "We heard a really loud explosion, so loud that the walls of our house shook. It was really scary."
Zionist Union MK Omer Bar-Lev, a member of the Foreign Affairs and Defense Committee, recently warned that Hamas had resumed digging tunnels and that at least one may have already crossed the border into Israeli territory.