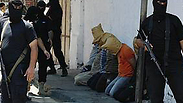 Hamas executing 'collaborators' with Israel
The Islamist group Hamas used its 2014 Gaza war with Israel to "settle scores" with rival Palestinians, executing at least 23 in possible war crimes, Amnesty International said Wednesday.

The London-based rights group detailed the abuses in a report entitled "Strangling Necks': Abduction, torture and summary killings of Palestinians by Hamas forces during the 2014 Gaza/Israel conflict."

The report detailed the "brutal campaign of abductions, torture and unlawful killings against Palestinians accused of 'collaborating' with Israel" by Hamas, de facto ruler of the Gaza Strip enclave.

The report details the "extrajudicial execution of at least 23 Palestinians and the arrest and torture of dozens of others".

"It is absolutely appalling that, while Israeli forces were inflicting massive death and destruction upon the people in Gaza, Hamas forces took the opportunity to ruthlessly settle scores, carrying out a series of unlawful killings and other grave abuses," Amnesty's Middle East and North Africa director Philip Luther said.

"The de facto Hamas administration granted its security forces free rein to carry out horrific abuses including against people in its custody. These spine-chilling actions, some of which amount to war crimes, were designed to exact revenge and spread fear across the Gaza Strip," Luther added.

Around 2,200 Palestinians were killed during last year's 50-day conflict with Israel, with 73 killed on the Israeli side.

The Jewish state went to war against Hamas to stamp out cross-border rocket and mortar fire.

Related stories:

A March report by Amnesty found that rockets fired during the war by Gaza terrorists killed more Palestinians than Israelis.

According to the new Amnesty report, "Hamas forces also abducted, tortured or attacked members and supporters of Fatah, their main rival political organization within Gaza, including former members of the Palestinian Authority security forces".

"Not a single person has been held accountable for the crimes committed by Hamas forces against Palestinians during the 2014 conflict, indicating that these crimes were either ordered or condoned by the authorities," it said.

Wednesday's report highlighted a particularly brutal incident, which it said took place in Gaza on August 22.

"In one of the most shocking incidents, six men were publicly executed by Hamas forces outside al-Omari mosque ... in front of hundreds of spectators, including children," Amnesty said. Hamas had announced the men were suspected "collaborators" who had been sentenced death in "revolutionary courts," the rights group added.

"The hooded men were dragged along the floor to kneel by a wall facing the crowd, then each man was shot in the head individually before being sprayed with bullets fired from an AK-47," the report said of the August incident.

Hamas violently seized Gaza from forces loyal to Abbas in 2007, leaving Palestinians bitterly divided - Hamas ruling Gaza and Abbas governing parts of the West Bank. Since then, Hamas has launched thousands of rockets at Israel and fought three wars with the Jewish state.

The report said 16 of the people killed by Hamas were already being held by the militant group when the conflict erupted and many of them were waiting to hear the verdict of their Hamas-organized trials. "Many had been sentenced after trials before courts whose proceedings are grossly unfair. A number had said they had been tortured in order to extract 'confessions,'" the report said.

Amnesty's report also said that Hamas abducted and tortured people in an outpatient clinic that was no longer in use, within the grounds of Gaza City's main hospital, Shifa.

Luther accused Hamas of "appalling crimes against powerless individuals", which in some cases constitute war crimes.

He said the militant movement displayed "a disregard for the most fundamental rules of international humanitarian law. Torture and cruel treatment of detainees in an armed conflict is a war crime. Extrajudicial executions are also war crimes."

Amnesty called on the Ramallah-based Palestinian Authority and Hamas to "cooperate with independent and impartial international investigative mechanisms", and to bring "suspected perpetrators" to justice.

A Hamas spokesman criticised the report as being unfair, unprofessional and not credible.

"The report is dedicated against Palestinian resistance and the Hamas movement ... it deliberately exaggerated its descriptions without listening to all sides and without making an effort to check the truthfulness of details and information," said Fawzi Barhoum, a Hamas spokesman.

Salah Bardawil, a Hamas official in Gaza, said the incidents mentioned in the report took place 'outside the framework of the law' and Hamas was investigating them.

The Palestinians are preparing to sue Israeli officials through the International Criminal Court for alleged war crimes committed during last year's Gaza conflict.

The IDF has opened investigations into deadly incidents that took place during the war.

Amnesty accused Israel in a December report of committing war crimes in its Gaza campaign.

AFP, the Associated Press and Reuters contributed to this report.