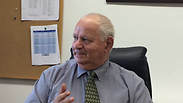 Israeli Consul to Hungary Motti Rave
A Budapest resident was recently arrested after cursing two Israelis whom he heard speaking Hebrew, telling them "dirty Jews - it's a shame Hitler didn't finish the job. If I had a rifle, I'd shoot you." One of these Israelis was Israel's Consul in Hungary, Motti Rave, who called the police.
Rave, whose father was a Holocaust survivor, was standing outside the famous Dunapark Café near the Danube river, in Budapest's 13th district - an area in which many Jews reside - and the two were waiting for family members while having a quiet conversation in Hebrew.
An older Hungarian man sitting on a nearby bench heard them and started accosting them, repeatedly saying "You're dirty Jews, it's a shame Hitler didn't finish the job" in Hungarian.
Rave, who understands Hungarian, turned to the man and asked him to stop, warning him that if he continued with his anti-Semitic comments, Rave would have no choice but to involve the police.
"I wish I had a rifle, I'd shoot you all," the Hungarian responded.
Rave then called the Israeli Embassy's head of security, who called the police. A police patrol that arrived at the scene arrested the man.
Hungary's attorney general later asked Rave to testify on the incident so the Hungarian man could be prosecuted for anti-Semitic behavior.
"I have personally never encountered such blunt anti-Semitic behavior," Rave said. "I unfortunately heard of similar cases in Hungary but it hasn't happened to me yet. Due to the gravity of the things that were said, I decided there was no choice but to call the police and file a complaint against him. The Hungarian policemen definitely wanted to help and immediately arrested the man."
Mandatory Holocaust education
A Catholic university in Hungary has made a course in Holocaust education mandatory for all its students, the first initiative of its kind in Europe according to Israel's envoy to Budapest.

From September, students at the Pazmany Peter Catholic University in Budapest, Hungary's main religious higher educational institution, must take a course titled "The Holocaust and its memory".

"Anti-Semitism in any form is incompatible with Catholicism," the university's rector Szabolcs Szuromi said at a press conference to announce the move Tuesday.

The course content has been compiled by professors at Tel Aviv University, he added.

Szuromi said the idea was sparked by recent remarks by Israel's ambassador to Budapest Ilan Mor that Holocaust education was the key to preventing anti-Semitism.

The initiative was "unique on a European level", said Mor, who was also in attendance.

As many as 600,000 Hungarian Jews perished in the Holocaust, almost all in 1944.

According to surveys, anti-Semitic attitudes have risen in recent years in EU member Hungary, which is home to Central Europe's largest Jewish community of around 100,000.

Members of the country's second most popular political party, Jobbik, have made regular anti-Semitic statements.