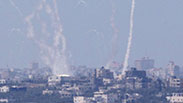 Rockets launched from the Gaza Strip during Protective Edge
Photo: AFP
Hamas arrested the militants behind the rocket launched Tuesday night at southern Israel, a Hamas source told Ynet on Wednesday.

A rocket fired from the Gaza Strip hit an open area in southern Israel on Tuesday night. No damage was caused, but one teenager was treated for shock.

The IAF retaliated against the rocket fire, striking Hamas, Islamic Jihad and Popular Resistance Committees targets near the Gaza airport in the southern part of the Strip, as well as Hamas targets in Beit Lahiya in the northern part of the Strip, Palestinian news agency Ma'an reported. The Palestinians reported no injuries in the attacks.

Hamas assesses damage from IAF strike (צילום: רויטרס)

"What happened yesterday (the rocket fire) goes against the interests of the Palestinian factions in the Gaza Strip and against our national interests," the Hamas source said. "We consider the rocket fire to be a dangerous thing."

"Right after the rocket fire, our security forces were deployed to different places across the Strip and hunted for the shooters until they were found and arrested," the source continued.

He noted there were mediation efforts underway between Israel and Hamas in an attempt to de-escalate the situation as soon as possible. While refusing to elaborate on who the mediators were, he said Egypt was not involved.

Meanwhile, Ma'an quoted Egyptian sources as saying that Cairo has asked Jerusalem to halt its "aggression" in the Gaza Strip and show restraint following the Israeli counterstrike.



Tuesday's attack was the first time since last year's 50-day Operation Protective Edge in Gaza that a medium-range Grad rocket was fired into Israeli territory.

Defense establishment sources said the rocket was likely fired by an errant Palestinian faction, but Ya'alon stressed, "Hamas is responsible" for everything that happens in the Gaza Strip.

"It would be best for Hamas to work to rein in any attempt to fire at Israel or any provocation against Israel, otherwise we will have to act with greater power," Ya'alon added.

Hamas media outlets reported that the organization began evacuating all its security headquarters for fear of an Israeli reprisal to the attack. The evacuation was expected to continue into the morning hours.

Matan Tzuri, Yoav Zitun, Itay Blumenthal contributed to this report.