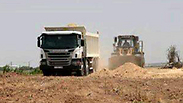 Construction work on new road
Photos taken inside the Gaza Strip show that Hamas has been paving a dirt road all the way down the border fence with Israel.

In recent days, bulldozers, tractors and trucks were seen working on a new road less than 300 meters from the border fence, using waste from buildings destroyed during Operation Protective Edge.

The construction work, which has been documented by different sources inside the Strip, is being secured by armed uniformed men. It is unclear whether these men belong to the Gaza security forces under Hamas authority, or to the organization's military wing, the Izz ad-Din al-Qassam Brigade.

The Public Works Ministry in the Gaza Strip, which is in charge of paving roads, denyed having any connection to the new road being paved, and no official body in the Strip has admitted to being behind it.

Security experts are split on why the new road is being paved. Some claim that Hamas' armed wing was trying to challenge Israel and set a new reality on the ground in this sensitive area. Others claim these are works being done as part of a silent understanding between Hamas and Israel that the new road can strengthen the Hamas security forces' control over errant Palestinian factions trying to launch rockets at Israel from near the border, as well as cut the number of Palestinians trying to infiltrate Israel to find work.