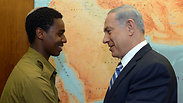 Netanyahu meets with Pakada
Photo: Haim Tzah, GPO
Damas Pakada, the IDF soldier of Ethiopian descent whose assault by police last month led to a turbulent protest by Israeli Ethiopians, has decided to sue the police for compensation.

In a lawsuit filed at a Tel Aviv court on Tuesday, Pakada is demanding NIS 390,000 including legal expenses (some $100,000) in compensation from the police.

The lawsuit, which was filed against the two police officers involved in the incident, claims that if the assault had not been documented on camera - Pakada would have likely been accused and convicted of serious charges of assaulting police.

Pakada's attorney, Eyal Abulafiya, claims this is a case of police brutality motivated by racism, "one of the more shocking cases seen recently in Israel, which was documented by security cameras by coincidence."

He went on to say that on top of police displaying serious racism, this was a display of hatred which in this case provided a rare glimpse "into a regular habit, which is wrong to the core, that happens frequently at the Israel Police, who use violence against civilians, make false accusations, and more."

The suit stated that the violence resulted in damage caused to Pakada in body and spirit, and to the entire Ethiopian community in Israel.

Police assault Pakada, documented by security camera

In addition to that, the lawsuit noted, damage was caused to one of Israel's symbols - an IDF soldier in uniform. "This fact did not lead to even the slightest of hesitations before the complainant was brutally attacked by police," Abulafiya said.

In his suit, Pakada asked the court to express its contempt of police brutality, particularly brutality against citizens of Ethiopian descent, and aid in putting an end to the serious racism prevalent in the Israel Police and the State of Israel.

Pakada said that if he won the suit, he would donate some of the money to Ethiopian community organizations fighting for justice and equality.

The 19-year-old soldier was beaten in Bat Yam by two police officers while on his way home from the army.