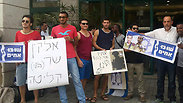 Photo: Itay Blumenthal
Photo: Itay Blumenthal
Two Ethiopian Israelis who recently finished their military service in combat units protested Wednesday morning outside of the Ministry of Absorption offices in Petah Tikvah demanding that authorities allow for their siblings to make Aliyah from Ethiopia where they still live. Argawi Tasfa (23) and Chalachew Mekonen (22) were joined at the protest by friends from their army units.

"I have a 30-year-old sister who's been refused (the right) to make Aliyah for 11 years," said Tasfa who served in the paratrooper's battalion. "She was supposed to come with us to Israel in 2004 and they told us that because she was pubescent she would come one month after us. With time it was postponed because of the creation of committees and changes in the criteria and now they're ready for her to come with humanitarian approval without the status or rights of a new immigrant."

Tasfa hasn't seen his sister, who's lived in Gondar since her brother left, and he hasn't met his nephews, ages five and 10. "It's time that she made Aliyah and joined the family and her seven brothers in Israel," continued Tasfa. "She needs to come like every new immigrant, as a right, not charity. She should have been with her family who's thousands of kilometers away."

Mekonen, who served in Givati, said that his longing is increasing for his 19-year-old brother who stayed in Ethiopia and that he's beginning to lose hope. "It's sad that the country divides families; when we made Aliyah they wanted my brother to stay with his mother in Ethiopia, and now that he's an adult the bureaucracy is wearing us down."

By the decision of the Absorption Ministry's legal counsel, Michal Shitrit-Ravel, that was given two weeks ago, "This case addresses the siblings of soldiers who only received entry permits for humanitarian reasons from the Interior Minister, therefore they can come to Israel whenever they wish.

Because their siblings didn't receive new immigrant status, Tasfa and Mekonen arrived Wednesday at the office of the Petah Tikvah manager in the Absorption Ministry, Meir Yehiel, who told them that his office has no way of helping them.

"Minister Elkin refuses to meet with us," said Tasfa and Mekonen. They added that they intended to continue their struggle with the two relevant government offices, the Interior and Absorption Ministries. "We won't stop our just war until our siblings arrive in Israel," said the two.

The offices of Aliyah and Absorption said that, "In this case, the ministry isn't qualified to give these people immigrant rights, just as we aren't qualified and don't give immigrant rights to thousands of people who received humanitarian approval from all over the world, including the soldier's parents. The office of Aliyah and Absorption has never approved an absorption package for those who came to Israel just on humanitarian grounds, because we are not qualified to do so."