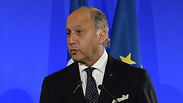 French FM Fabius
Photo: AFP
PARIS - France's foreign minister said on Thursday he would travel to Israel and the Palestinian territories in June, aiming to press ahead in getting an international consensus for a UN Security Council resolution that would set parameters for peace talks.

"We are for a two-state solution. We need to ensure Israel's security that's obvious. There is no peace and security without justice for the Palestinians, but let's be frank, justice hasn't been given to the Palestinians," Laurent Fabius told France Inter radio.

France recently handed a working document to Arab League countries in preparation of a Security Council resolution that would set a timeframe and the exact parameters of new peace talks between Israelis and the Palestinians, French diplomats have said.

"I will go ... to Egypt, the Palestinian territories and Israel to speak to their leaders," Fabius said. "We want the negotiations to restart between the two sides and that (they are) put within an international framework."

Fabius' aides said the visit would take place ahead of a final round of nuclear talks between major powers and Iran at the end of June.

Related stories:

French diplomatic sources said the planned resolution would not go beyond already agreed negotiating points, but would set a time period of 18 to 24 months to complete the talks. It would kick off with a conference among all key stakeholders.

After years of US-led efforts to broker peace between Israelis and Palestinians talks have collapsed. Washington has said it would "reassess" its options on US-Israel relations and Middle East diplomacy after Prime Minister Benjamin Netanyahu said during the last election campaign he was against Palestinian statehood.

In December, the US voted against a Palestinian-drafted resolution calling for an Israeli withdrawal from the West Bank and East Jerusalem and the establishment of a Palestinian state by late 2017.

But with a new Israeli government in place and the regional situation worsening, Paris is working behind the scenes to convince the Americans to press ahead with a resolution.

"The US method hasn't worked so we felt the idea was to create the conditions to support this negotiation by creating an international support group which would include Europeans, Arabs, Americans and anyone who thinks they could be of use," said one senior French diplomat.

Diplomats said the United States had made it clear it did not want to discuss the Middle East process until the end of the Iran negotiations. French sources said the target could be to put a resolution forward during the United Nations General Assembly in September.

Palestinians seek a state in Gaza, the West Bank and East Jerusalem, lands Israel captured in 1967.