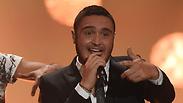 Nadav Guedj at the Eurovision. 'Video made us smile'.
Photo courtesy of the Israel Broadcast Authority
Five IDF soldiers from an engineering battalion in the paratroopers have found themselves in trouble for a video showing them dancing to the Israeli entry to this year's Eurovision song contest.

The video was a hit, but not in the eyes of their commander, who sentenced them to 21 days confinement to their base.

The video, which was filmed in the run-up to last Saturday's contest, shows the five dancing in formation to "Golden Boy", sung by Nadav Guedj. The song came ninth in the competition.

The troops were filmed dancing, in armored vests and carrying their weapons, with an armored vehicle in the background. The video was filmed the West Bank, and even shows the perimeter fence.

On the last line of the chorus - "Let me show you Tel Aviv" - the song ends, and the soldier filming the video turns to the camera and jokingly says "what Tel Aviv?", followed by an expletive.

(Video contains swearing in Hebrew)

The footage was uploaded to Facebook and received thousands of shares and likes.

An IDF source said: "The video in question was filmed during life-threatening operational activities and recorded on a mobile phone, which are forbidden during operations of this nature. We stress that the soldiers were not punished for the content of the video."

According to the source, a Molotov cocktail had been thrown recently at the site at which the soldiers filmed the video, and there is hostile terrorist activity in the area.

"During the investigation by the battalion commander, the soldiers expressed remorse for their irresponsible actions," the source said.

Friends of the soldiers in the battalion were outraged by the severity of the punishment.

"They did not do it during guard duty or endanger human life. The army is overreacting," one said. "We fought in Gaza during Operation Protective Edge, and in three months we are supposed to be released from the army, so why such a severe punishment?"

The soldiers' relatives said they only made the humorous video to mark the Eurovision, and also questioned the punishment.

"They received positive responses. It presents a different side of the army, and we do not understand what is so wrong with presenting an image that can only be good for Israel in the world."

Singer Nadav Guedj also responded to the video, writing on his Facebook page: "I know that of course they should not have done it, but it is made us so happy in Austria to see them dancing and happy. So guys, as you sit in detention, I will send you the 'Golden Boy' shirts, so you can dance as civilians."