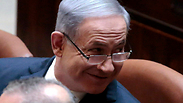 Benjamin Netanyahu
Photo: Reuters
Even as the global soccer federation FIFA handles a shocking scandal that included arrests of senior officials, Israel has been preparing for one of the most important votes in the history of both the Jewish State and the body governing world football.

On Friday, the Palestinian Authority will propose a resolution at the FIFA Congress in Zurich to suspend Israel from international competition. Despite the unfolding scandal rocking the organization, the controversial vote remains on the agenda.

Prime Minister Benjamin Netanyahu addressed the proposal, claiming a threat to Israel was a threat to FIFA. "The effort to hurt Israel will destroy FIFA because if they start with one country they will move on to another and it will collapse the organization. The effort to suspend Israel is severe and we will resist it unequivocally."

Netanyahu mentioned his remarks to FIFA president Sepp Blatter, who is up for re-election at the Congress and facing calls for his retirement: "I told Blatter that if he allows the suspension of Israel he will have allowed for the destruction of FIFA."

Netanyahu, however, has been working on a number of diplomatic fronts, with European officials pressuring him to renew negotiations with the Palestinians. In the conversation with journalists, Netanyahu said that he demanded European support for building in settlement blocs.

He also refused to publicly commit to freezing construction outside the major settlement blocs. "I did not tell Mogherini what we would not do," he said.

Netanyahu, who additionally serves as foreign minister, rejected the criticism of his de facto dismantling of the foreign ministry – whose responsibilities were passed on to no less than five ministers, as well as deputy minister Tzipi Hotovely.

"If the ministry had been dismantled, it happened long ago. Livni handled the talks with the Palestinians and now Minister Silvan Shalom will. The Strategic Affairs Ministry dealt with the Iranian nuclear issue and it did not harm the operations of the Foreign Ministry," he insisted.

Netanyahu addressed the Arab initiative which was presented by Saudi Arabia, saying "there are matters which they have lost the power to demand, like Israel withdrawing from the Golan Heights or the refugee issue. The (plan) has not been updated for 13 years – it has both positive and negative aspects."

He explained that "a number of things happened in the Middle East and the overall notion of attempting to reach an understanding with several leading Arab states is a good one."

The Israeli leader also refuted concerns raised by the recent rocket fire from Gaza, saying that "this was the quietest year in the last decade, quieter than after Cast Lead and Pillar of Defense. There were five rockets launched and Hamas quickly arrested those responsible and issued assurances. It reflects a balanced deterrence."

Attila Somfalvi contributed to this report.