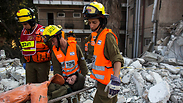 Home Front Command exercise (Archive)
Photo: Reuters
The annual Home Front Command military exercise will commence next Sunday, simulating a number of war scenarios, after a hiatus last year caused by Operation Protective Edge.

The exercise is scheduled to continue until next Thursday, and will focus this year on two scenarios that could occur in another conflict: a multi-front war, meaning simultaneous missile and rocket barrages from southern Lebanon and the Gaza Strip, as well as damage to essential strategic sites such as seaports and airports, power stations, and water facilities.

Two sirens will sound throughout most of Israel during the exercise – one on Tuesday at 11:05 PM, when most people are at school or work, and again at 7:05 PM, when residents are at home.

More than 240 local councils will participate alongside various government ministries, rescue organizations, the fire department, the police, and the MDA.

Residents of the Gaza envelope will not participate in the exercise, as it is assumed they have sufficient experience. Exercises will occur on Wednesday in Zickron Ya'akov, Carmiel, and Holon, alongside a simulated mass-casualty terror attack in Jerusalem. Mass-casualty events will be simulated on Thursday in Kfar Saba and Kiryat Gat.

Home Front Command staff will train in passive population evacuation, and local authorities will be required to test their preparedness for taking in thousands of citizens who have left combat zones.

Military officials believe that damage to sites or factories containing dangerous materials would require a limited response by the population, which would mainly involve staying inside for only three to four hours.

The Home Front Command has stepped up its attention to this danger in the last few years, working to reinforce and dismantle facilities that contain dangerous materials.

Military officials believe that Hezbollah or Hamas will seek to achieve success in a future conflict by firing more than 1,000 rockets and missiles within 24 hours (in the event of a war in the north).

"Our message to the populace is preparedness, not panic," the Home Front Command said on Thursday.

The exercise will also involve scenarios in which cyber attacks cause the collapse of the electricity grid, communications, and other infrastructure.