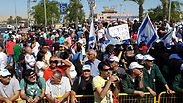 Protest in Dimona
Photo: Herzl Yosef
A strike that had disrupted potash production at Israel Chemicals (ICL) since February came to an end on Thursday when management and workers agreed on an efficiency program that includes fewer layoffs than originally planned.

Workers had walked out of the company's Dead Sea bromine unit on Feb. 3 and employees from the potash plant joined shortly after. They were protesting a plan to cut at least 280 of 2,150 jobs at the two facilities.

ICL, the world's sixth-largest potash producer and a maker of specialty chemicals, has said some sales have been delayed but it expects to recover most of them when the strike ends.

Although ICL is a private company, layoffs are more complicated since the Israeli government owns a "golden share" and could choose to intervene. The dispute was a hot issue in the run up to the country's March 17 election.

"The strike is over," Yaniv Levy, a spokesman for the Histadrut labor federation that represented the workers, told Reuters.

He said the sides agreed on an efficiency plan with fewer forced layoffs and a more generous compensation for those leaving the company.

ICL, which has exclusive permits to extract minerals from the Dead Sea, is one of the three largest suppliers of the crop nutrient potash to China, India and Europe. It is controlled by conglomerate Israel Corp.