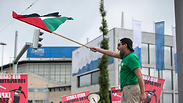 Palestinian Football Association Jibril Rajoub announced during FIFA's congress in Zurich on Friday that he was cancelling a vote on his proposal to have Israel expelled from the international soccer organization.

Rajoub said that protecting Palestinian players involved three main issues: freedom of movement, racism, and Israeli teams playing in territory beyond the Green Line. He called for a United Nations discussion on suspending these teams.

"I decided to drop the suspension, but it does not mean that I give up the resistance," Rajoub told the Congress.

"A lot of colleagues who I respect and I appreciate explained to me how it is painful for them to hear in this family about the issue of suspension.

"Tens of presidents of associations from Africa, South America, North America and Europe said to me that they don't want to have the precedent of suspending an association."

Complaining of Israeli restrictions, he said Michel Platini, the head of soccer's governing body in Europe, had once visited Palestine and donated equipment. "It was kept in an Israeli airport for 16 months and I had to pay $32,000 to release equipment which was (worth) 8,000 euros ($8,790)," he said.

Rajoub said FIFA must play their part to help before waving a red card at delegates to emphasise his point.

"I think it's time to raise the red card against racism and humiliation in Palestine and everywhere. It is time," he added.

Israeli Football Association President Ofer Eini asked to speak after Rajoub. "Let's leave politics to the politicians while we play soccer the best we can," he said. He urged Rajoub to shake his hand, but the Palestinian association's chief refused to do so until after the vote. They eventually shook hands once a proposal had been drawn up by FIFA President Sepp Blatter.

The Congress voted instead on the formation of an inspections committee to deal with the Palestinian complaints, which passed with 165 voting in favor and 18 against. The successful proposal will create a multilateral committee of observers to monitor the freedom of players and officials to move in and out of territories claimed by the Palestinians.

"Our international effort has proven itself and led to the failure of the Palestinian Authority attempt to oust us from FIFA," Prime Minister Benjamin Netanyahu said in a statement following the suspension proposal's withdrawal.

"The State of Israel is interested in peace but this will not be achieved through coercion and distorting the truth.

"The only way to achieve peace is to begin negotiations between the sides."

"The result of talks at FIFA is positive and I welcome the fact that we didn't arrive at an absurd situation in which a state like Israel would have been suspended from a body whose vocation is, before all, sporting," Israel's assistant foreign affairs minister Tzipi Hotovely said after the cancellation of the vote.

The decision came after weeks of negotiations between Israeli and Palestinian soccer officials alongside FIFA President Sepp Blatter to prevent the vote altogether.

Though Blatter had previously voiced opposition to the suspension proposal, he said before the vote Friday, "One association member demands that another association member is suspended. On this point we must find a solution that will finally satisfy the two associations, but especially the Palestinians. Then we can say that we acted to extend the hand of peace."

Negotiations lasted throughout the day Thursday and into Friday morning with the Israeli delegation offering concessions to address Palestinians concerns. Blatter called the efforts "constructive", but to no avail. Jibril Rajoub, President of the Palistinian Football Association reportedly ridiculed Blatter and pushed to move forward with the vote.

Tensions were felt both inside the hall where FIFA's congress convened and outside on the street where pro-Palestinian protesters called for a "Red card for Israeli apartheid," and to, "Expel Israel from FIFA." One of the protesters burst into the hall during Blatter's opening address to the congress and shouted "Red card to racism."

Blatter was introducing the day's business agenda and called for security to take the demonstrator from the hall.

A bomb threat on the site was also reported by police just before 2:30 PM. "I can confirm there has been a bomb threat against the FIFA congress, officers have been dispatched," the spokeswoman for the city police said.

The FIFA president was under significant amounts of pressure as he faced the possibility of being ousted from FIFA himself in a presidential vote on Friday. Blatter had been struggling to come out clean from a wide-spread corruption scandal that's struck international soccer in the past few days. British Prime Minister David Cameron declared on Friday that Blatter should resign in the wake of the scandal. But Blatter ultimately won a fifth term in Friday's vote.

AFP contributed to this report.