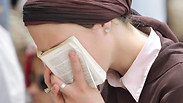 Haredi woman praying (Archive)
Photo: Shutterstock
Schools run by an ultra-Orthodox Jewish community in London could face an investigation after leaders of the group warned in a letter that women members were banned from driving their children to the premises.

The letter said women drivers were "contrary to the rules of religious modesty" for the Belz community and said that children driven in by their mothers would be barred once classes resume in August.

Education Secretary Nicky Morgan on Friday called the ban "completely unacceptable in modern Britain," while the community responded saying that it was self-imposed and fell under religious freedom rights.

"If schools do not actively promote the principle of respect for other people they are breaching the independent school standards. Where we are made aware of such breaches we will investigate and take any necessary action to address the situation," she said in a statement.

The Hasidic community was founded in Belz in Ukraine in the 19th century, and comprises 10,000 families worldwide, mainly in Canada and the United States.

In Britain, there are around 400 families living in the north London neighborhood of Stamford Hill and members run two schools with hundreds of children.

But Belz member Yanky Eljan defended the ban, telling AFP: "The Belz community has certain stringencies that we take upon ourselves."

"If I sent my son to Eton school, I'm sure they've got lots of rules, and I'd have to abide them," he added.

"There's no comparison to Saudi Arabia, women can be flogged in Saudi Arabia, there's nothing like that.

"We just want to be left in peace."

Fellow Belz member Judith Stein denied that the group oppressed women, and accused the Jewish Chronicle, which first published the letter, of being biased.

"I do not feel hard done by, I do not feel degraded, I do not feel oppressed. I live my life in this way because I choose to," she wrote on her blog.

"Women are sheltered and protected, not because they are browbeaten and forced to remain locked indoors, but rather because she is considered a precious jewel, a diamond, which needs to be protected at all costs," Stein said.

Dina Brawer, the UK ambassador of the Jewish Orthodox Feminist Alliance, told the Jewish Chronicle that the "draconian ban" was about "power and control of men over women."

"In this sense it is no different from the driving ban on women in Saudi Arabia. That it masquerades as a halachic (Jewish religious law) imperative is shameful and disturbing," she said.