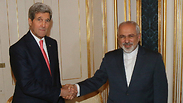 Kerry and Zarif in nuclear talks
Photo: EPA
US top diplomat John Kerry and his Iranian counterpart Saturday launch a new high-stakes diplomatic drive to nail down an unprecedented nuclear deal as they hurtle towards a deadline just one month away.
US officials warned the weeks leading to June 30 would be intense, vowing to "keep the pressure on" to force the Iranians and everyone at the table to make the "tough decisions" needed to end a 12-year standoff and put a nuclear bomb beyond Iran's reach.
Sides meet for final round of negotiations (צילום: רויטרס)
Sealing a long-elusive deal with the Islamic Republic could prove President Barack Obama's lasting foreign policy achievement.
But after three decades of enmity, it may also pave the way towards better ties between Washington and the Shiite regional power, bringing Iran back into the international fold and creating fresh impetus to resolve a host of conflicts grown ever more perilous in the Middle East.
Kerry and Iranian Foreign Minister Mohammad Javad Zarif will meet once again in the Swiss city of Geneva, as the United States with its partners - Britain, China, France, Germany and Russia - seek to finalize the complex pact.
After an interim accord hammered out in the Swiss city in November 2013, the United States and Iran are grappling with the final details of the ground-breaking agreement.
The deal will include Iran dramatically scaling back its nuclear activities and submitting those that remain to what Obama has called the "most robust and intrusive inspections and transparency regime ever negotiated."
In return, the United States and the five other major powers committed to lift certain sanctions that have caused the Islamic republic of 75 million people major economic pain.
A deal would draw the curtain on a crisis that has raged since Iran's nuclear activities were first revealed some 12 years ago.
Time running out
The two diplomats are due to meet Saturday, but US officials did not rule out that the talks could stretch into a second day as the clock ticks down to the deadline.
After eight days of emotional, tough talks in Lausanne, the delegations unveiled on April 2 a framework to guide the last stretch of negotiations, with Iran agreeing to rein in and mothball large sections of its nuclear program.
But differences remain, while both the United States and Iran are under immense pressure from hardliners at home.
"We have a month left. I do think you'll see it escalate at the political level," a senior State Department official told reporters Friday, saying Kerry wanted to meet with Zarif to discuss the "really tough sticking issues."
June is "going to be a pretty intense month both at the expert level and the secretary's level, but I think we definitely still believe we can do it."
Since the April 2 accord, technical experts have been meeting quietly behind the scenes to overcome the remaining issues. But many of the decisions now need to be made at a political level.
The US official said that the accord would have "multiple annexes" perhaps as many as three or more, which are already being drafted.
Iranian negotiator Abbas Araghchi, quoted by state news agency IRNA, said Wednesday the two sides were "not bound by the schedule" agreed on April 2.
"We are not at the point where we can say that negotiations will be completed quickly -- they will continue until the deadline and could continue beyond that," he said.
A State Department official, Jeff Rathke, said however the US was "focused on June 30th as the deadline, and that's what we're devoting our efforts to."
"We won't have a deal until those technical details are done, and we expect the pace of the talks to continue unabated," he told reporters, adding "we think we can achieve that goal."
On Monday, deputy oil minister Amirhossein Zamani-Nia was quoted as saying that 20 pages of the text had been written "but there are still disagreements and 30 percent of the work remains to be done."
Military concerns
One of the major sticking points appears to be access to military sites amid lingering concerns about the possible military dimensions of the Islamic Republic's nuclear program.
Tehran has always denied seeking to develop a nuclear bomb, saying its nuclear energy program is for civilian purposes only.
But French Foreign Minister Laurent Fabius warned on Wednesday that France would oppose a final nuclear accord unless it allowed inspections of military sites.
An agreement "will not be accepted by France if it is not clear that verifications can be made at all Iranian facilities, including military sites," Fabius told parliament.
On Tuesday, Yukiya Amano, the head of the UN's atomic watchdog, said Iran had agreed to implementing the Additional Protocol of the Nuclear Non-Proliferation Treaty (NPT) that allows for snap inspections.
"When we find inconsistency or when we have doubts, we can request access to the undeclared location for example, and this could include military sites," the Japanese diplomat told AFP.
Zarif has said the April framework allows "some access" but not inspections of military sites, in order to protect national "military or economic secrets."
Another hurdle is how to lift an interlocking network of biting US, EU and UN sanctions, with global powers insisting that these should be able to snap back into place should Tehran violate the deal.
Iran also is demanding an accelerated lifting of US, EU and UN sanctions, while the P5+1 group wants a "snapback" mechanism to be put in place enabling the measures to be quickly reimposed if Tehran breaks the deal.
"Kerry will stress to Zarif the importance of granting access for inspections," a western diplomat said.
"It's one of the key legs of the stool. It's not the only leg, but if it is not included then the stool will fall over."
Iran's supreme leader Ayatollah Ali Khamenei praised the work of his nuclear negotiators Wednesday after they came under heavy criticism from conservatives in parliament.
The negotiators "are working, making efforts, breaking sweat... to obtain what is in the interests of the country and the regime", he told members of parliament.