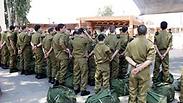 New IDF recruits
Photo: Shaul Golan
The IDF is working on formulating harsher sanctions to be used against defectors and draft dodgers, including imposing limitations on passport and driver's license renewals.

The army's Manpower Directorate and Military Advocate General are working on a series of legal moves that would allow the IDF to take action against those shirking their mandatory army service in an attempt to deter them.

IDF data shows there were some 1,900 draft dodgers (18-year-old youth who did not enlist despite not being given an exemption) in 2014 and some 2,700 defectors (absentee soldiers who missed over 21 days of service).

The moves being considered include placing limitations on receiving, holding, extending or renewing passports and driver's licenses, denying tax and housing benefits and limiting employment options in state-supervised professions like medicine, real estate appraisal and others.

"We believe such sanctions, which would actually affect the draft dodger's daily life, will make is clear beyond any doubt that draft dodging and defection are not acceptable in the Israeli society, and will help minimize this phenomenon," said the head of the IDF's Personnel Division, Brig.-Gen. Merav Kirshner, who is leading the efforts on the topic.

Another Manpower Directorate official added that "Israelis are law-abiding citizens, they enlist in army service and join in the burden of protecting Israel's security, and it does not make sense that those who takes the law onto their own hands and choose not to fulfill their civic duty expect to receive services or be employed by the state."

The IDF is planning to bring the bill proposals to the Knesset for a vote as soon as possible, and believe the legislation will win widespread support, unlike other moves planned against women who received exemptions for religious reasons - which were blocked by Haredi parties and Bayit Yehudi in the past.