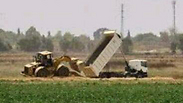 Construction work on new road
Former Hamas interior minister Fathi Hamad said Friday that a new dirt road the terror organization's military wing is paving along the Gaza-Israel border is preparation for a "window of opportunity to attack."

Hamad, who is considered one of Hamas' extremist members, was speaking at an event in memory of one of the Izz ad-Din al-Qassam Brigades commanders in Khan Younis, Ahmad Sahmoud, who was killed during Operation Protective Edge.

He called on Muslim countries to work together to "remove the siege" over the Gaza Strip.

His comments about the new dirt road, first reported on Ynet earlier this week, were the first comments made by a Hamas official about the mysterious road that is being paved under tight security.

According to the former interior minister, the road will be paved adjacent to the border, some 250-300 meters from the fence.

Despite Hamad's militant tone, Hamas has seemingly been working to de-escalate the situation recently, with a Hamas source claiming the organization arrested those behind the rocket launched at southern Israel this week. According to the source, Hamas was also trying to reach a long-term ceasefire agreement with Israel.

Defense sources told Ynet they were closely monitoring the paving of the road, but they still do not know with certainty what it is meant for.

IDF investigations found the road is being paved in an area adjacent to Nahal Oz, right outside the buffer zone to which Palestinians are barred from entering.

The army believes the paving of the dirt road does not signify a security threat to Israel.

Also in the area near Nahal Oz, the Palestinians are doing wide-spread infrastructure work at the outskirts of the Gaza City neighborhood of Saja'iyya to rebuild military posts the IDF destroyed during Protective Edge.