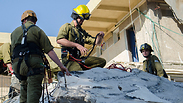 Previous Home Front drill
Photo: IDF Spokesman
Israel is in for days of mock explosions, sirens and missile and terror attacks as its security and rescue services on Sunday launched a five-day drill across the country.

The drill involves the Home Front Command, the Ministry of Defense's National Emergency Authority (NEA), government ministries, local authorities, security organizations, the education system, and public and private entities. The exercises will end Thursday.

The "Turning Point" drill is this year focusing on Home Front preparedness for a conventional event, and its relationship with government ministries, rescue services and local authorities, as well as readiness for an emergency.

The drill will place special emphasis on the preparedness of the national infrastructure (electricity, water, gas and so on) for emergencies, as well as upgrading the coordination and cooperation between all ministries, which will be led by the NEA. Part of the drill will take place in the Northern Command and cover responses to an ongoing security situation involving multiple agencies.

On Tuesday, sirens will sound across Israel at 11:05 am and at 7:05 pm, with the exception of communities bordering the Gaza Strip, as part of the Home Front command drill. The aim is to give all Israelis practice in entering their chosen protected space, both in the workplace and at home, as well as testing the state of the country's sirens system.

The alert will also appear on radio and television and online, and half an hour before the siren people will receive a "personal message" on their phones. If a real emergency occurs during the drill, a second siren will sound and a formal announcement will be distributed through the media. The annual exercise, which is entering its eighth year, was planned in advance as part of the training for 2015.

The annual exercise will also take place in educational institutions and kindergartens across the country, with students entering protected spaces. The drill will also be implemented at army bases, government offices and public institutions.

More on this topic:

All essential services, including hospitals, will continue to operate as usual during the week, and all conferences and mass gatherings will continue as planned. All traffic, including public transport and private cars, should not stop when the siren sounds.

In the event of difficulties and problems hearing the sirens, or for information on shelters, the public can contact the Home Front Information Center by calling 104, their local authority's information desk, or the visit the Home Front Command website www.oref.org.il.

During the week, parallel exercises will be held by the Air Force and Navy, during which there will be heavy traffic by military vehicles, aircraft and sea vessels throughout the country.