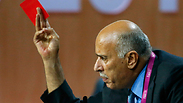 Photo: Reuters
Photo: Reuters
Palestinian Football Association (PFA) chairman Jibril Rajoub's efforts to suspend Israel from FIFA came to naught after he removed the proposal from the agenda in the Congress that convened in Zurich on Friday. Now it turns out that the move caused quite a bit of damage to Rajoub, as evidenced by the social networks used by Palestinians. After having sustained heavy criticism from Israel, Rajoub is now being attacked by his own.

Shortly after Rajoub spoke at FIFA Congress' annual meeting and announced the cancellation of the Palestinian proposal to suspend Israel from FIFA, Palestinian surfers launched a frontal attack on what was, in their interpretation, an additional Palestinian Authority concession to Israel.

On Twitter a hashtag was created under the name #RedCardJibrilRajoub in an attempt to mock the PFA Chairman who himself raised a "red card for Israeli racism" on the Zurich stage. "We demand that he be ousted as head of the Palestinian Federation," wrote some of the surfers.

Another hashtag created was #SoldoutGibril - and surfers have expressed their anger at his decision through caricatures and memes. One of the pictures posted on social networks shows a Palestinian boy waving a red card to an Israeli soldier. Palestinian surfers shared the photo and wrote under it: "This is my real hero".

The decision to cancel the vote to suspend Israel captured the headlines in most Palestinian news sites, especially those affiliated with Hamas. The official news agency of the Palestinian Authority, Wafa, chose a title that minimizes the damage and stressed FIFA's strong support of the Palestinian proposal to establish a committee to address their demands of Israel. The report was no mention of the Palestinians cancellation of their proposal to suspend Israel from FIFA.

Hamas sites did not conceal their criticism and ridiculed Rajoub for agreeing to shake hands with Israeli Football Association chairman Ofer Eini. Hamas spokesperson abroad, Hussam Badran, Husam Badran, condemned the PA's decision to cancel the vote on Israel's suspension, and noted that this step contravenes the will of the Palestinian people. Badran added in amazement: "After this about-face, how can Palestinians rely on the PA's commitment to pursue Israel in international courts or to halt security cooperation."

Even the Popular Front for the Liberation of Palestine (PFLP) responded to events, and condemned the Palestinian withdrawal from the opportunity "to humiliate the occupation and its crimes before international institutions." Also, the PFLP called on the PLO Executive Committee to hold an urgent discussion in order to investigate Palestinian officials, first and foremost Rajoub who took this decision
Announcement and denial
On Saturday, several Palestinian news websites posted a condemnation from the Palestinian Football Association, signed by Rajoub himself. The announcement read: "The decision was made in coordination with the Arab associations and those who supported us, and out of concern for possible negative reactions from Israel" quoting Rajoub. He also clarified that the decision taken at the FIFA Congress to establish a committee to investigate Palestinian demands is an achievement "one can count on".

The announcement also stated that the Palestinians supported incumbent FIFA chairman Sepp Blatter in the organization's elections. A few hours later the Palestinian association denied that it had published the announcement.

Meanwhile, Rajoub interviewed by the Al-Quds news website said that the decision to establish a committee to examine the Palestinian demands is "a great achievement that we have carried out without having to request Israel's suspension from the organization, which would have entailed long legal discussions." However, Rajoub stressed that the Palestinian struggle continues and that they will go back to Fifa if the Israeli side doesn't abide by the resolution adopted by the organization. He also asked to distance sports from politics.

Regarding FIFA's elections, Rajoub rejected outright reports that the Palestinian delegation supported Blatter and not the Jordanian candidate Prince Ali. According to Rajoub, he expressed his support for the Jordanian Prince a day before FIFA's internal elections. Rajoub announced that he will hold a press conference on June 2nd, during which he will clarify what happened in the discussion rooms.