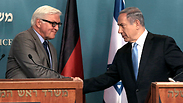 Steinmeier and Netanyahu in Jerusalem on Sunday
Photo: Reuters
Israel must ease its blockade on the Gaza Strip and Hamas must work to end the rocket fire, German Foreign Minister Frank-Walter Steinmeier said during a visit to the area on Monday afternoon, a day after he told reporters in Jerusalem that rebuilding the battered coastal strip was integral to Israel's security.
Steinmeier is the latest in a series of Western diplomats to tour Gaza since a 50-day war with Israel last summer.
The Norwegian, Irish and Spanish foreign ministers have also visited, as has EU foreign policy chief Federica Mogherini.
The foreign minister said Monday that more efforts are needed to rebuild and to improve Gaza's economy. This, he said, "requires the opening of crossing points by Israel." But he conceded it would be difficult to do this without an end to rocket fire.
The visit did not include meetings with the leadership of the Islamist group that has controlled Gaza since it seized the area in a bloody 2007 coup.
The area has been devastated in a series of conflicts between Israel and Hamas since Hamas took over Gaza, most recently in 2014. While international donors have pledged billions of dollars in aid, little reconstruction has taken place on the estimated 18,000 homes destroyed in the fighting.
On his return to Israel, Steinmeier stopped off at a school in the Shaar HaNegev regional council, which has been repeatedly targeted by rocket fire from Gaza.
"I am happy to be here, it was important for me to come," he said. "We need to remember that on both sides there are students, children who have grown up with three wars who live under threat and who suffer on both sides of the fence."
Speaking in Jerusalem on Sunday following talks with Prime Minister Benjamin Netanyahu, Steinmeier stressed the need for concrete solutions in the Israel-Palestinian conflict.
"We have to look for options with the Palestinians," he said. "The situation in Gaza is very hard; we have to think about the reconstruction of Gaza. Israel's security is tied to the prosperity of Gaza because none of us want another war between Israel and Gaza."
Steinmeier also met with Palestinian Prime Minister Rami Hamdallah in Ramallah on Sunday to discuss Gaza and German assistance to the Palestinians.
Israel and the international community have placed restrictions on the materials allowed into the Strip after the fighting, arguing that construction materials were being used to reconstruct Hamas' subterranean fighting infrastructure and not to rebuild neighborhoods hit in the fighting. Hamas itself has vowed to replace the tunnels it used to launch attacks on Israel.
Outgoing Quartet envoy Tony Blair was among the Western leaders to visit the Strip, making a surprise stop there in February.
"The reality is very difficult," Blair told Nahum Barnea after the visit. "The responsibility for the situation lies on all of us - the international community, Hamas, the PA, Egypt and Israel. Terror comes out of Gaza, and the question is what can be done to stop it: Do you open Gaza up or shut it down? Israel has faced this dilemma for a long time, and now Egypt is going through the same process. I say - let's change the reality completely."
Israel will not be able to destroy Hamas as a political movement, Blair told Ynet last year, saying that desire for such a move must come from the Palestinian people themselves.
Steinmeier also met Sunday night with former president Shimon Peres, who thanked Germany "for supporting peace and for opposing terrorism or boycotts against Israel."
Steinmeier said in response: "Germany is a true friend of Israel. We support Israel and the peace process."
The two met at the Hebrew University, where Steinmeier received an honorary doctorate for his work on advancing Israel-German ties, his ongoing condemnation of anti-Semitism, and his efforts towards reaching peace between Israel and the Arab world.