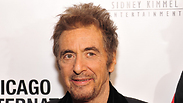 American actor Al Pacino has decided not to appear in a play whose author once publicly expressed sympathy for the German occupation of Norway and praised Adolf Hitler as a "preacher for the gospel of justice."

Pacino's manager indicated the Oscar-winning actor had pulled out of a Danish stage adaptation of "Hunger," by Norwegian author Knut Hamsun, because he was unable to come to terms with the playwright's support for the German occupation of Norway and Nazism.

Cinema Classic

Jerusalem Film Festival's closing event will feature outdoor screening of 'The Godfather' in front of Old City walls with live symphonic orchestra.

The Anti-Defamation League (ADL) voiced support for the move on Friday. "No matter how far removed we are from the history of that period, it is still incomprehensible that some people in the cultural elite continued to defend Hitler long after his role in the Holocaust and the genocide of six million Jews and millions of others became fully known," said ADL National Director Abraham H. Foxman.

"I, for one, can empathize with Al Pacino's decision not to act in a play authored by a one-time Nazi sympathizer."

While Hamsun helped pave the way for psychological literature, even influencing writers like Franz Kafka and Ernest Hemingway, during the German occupation of Norway he became a firm supporter of the Nazis at the age of 80, and became acquainted with many high ranking German officers, like Joseph Goebbels.

After Hitler died, Hamsun wrote an obituary casting the Nazi dictator in a positive light. Late in life the playwright came out as a supporter of Nazi Germany's occupation of his native Norway.

Pacino, best known for his roles as Michael Corleone in "The Godfather" and Tony Montana in "Scarface," was supposed to appear in Copenhagen last week for a 3D filming of him narrating "Hunger," which is scheduled to premier at the Bergen International Festival in May 2017.

Shalom Life contributed to this report.