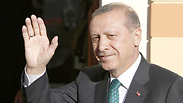 Just one week before upcoming parliamentary elections in Turkey, President Recep Tayyip Erdoğan and officials in his Justice and Development Party (AK Party) found a unique way to try and secure a victory at the polls by calling for the "liberation" of Jerusalem.

"Conquest is Mecca, conquest is Saladin, it's to hoist the Islamic flag over Jerusalem again; conquest is the heritage of Mehmed II and conquest means forcing Turkey back on its feet," said Erdoğan in a speech on Saturday in Istanbul before millions who appeared to celebrate 562 years since the Turks captured Constantinople from European Christians.

Erdoğan drew a straight historical line between the capture of Jerusalem from the crusaders by Saladin and the capture of Constantinople to the elections in Turkey due to take place next week. Although state employees were required to send a delegation to the celebration, under the threat of punishment, local media reported that many partakers left during the President's speech.

Attempts by Erdoğan and his allies to find political support by linking Jerusalem and Islam have formed a clear and solid trend in Turkey. Only a few days ago, Prime Minister Ahmet Davutoğlu dedicated a new airport in the south of the country, naming it after Saladin. According to Davutoğlu, "It's a name that says to the Kurds, to Turkey, and to the Arabs, yes, this is our leader.

"It's a symbol that unites us," he continued. "All those who claim that Jerusalem is the Jew's holy city should be ashamed. We chose the name Saladin in order to send a message with the help of Allah that Jerusalem will always belong to the Kurds, to Turkey, to Arabs, to Muslims."

According to the results of public opinion polls, Erdoğan's AK Party is likely to lose the absolute majority it's enjoyed for the past 12 years in the House of Commons in elections on June 7.

While Erdoğan made his inflammatory comments, the Islamist organization IHH held a march in Istanbul calling for the "liberation of Jerusalem" to mark the fifth anniversary of the Marmara flotilla that was boarded by Israeli commandos when it tried to reach Gaza with unidentified cargo. Nine Turkish activists were killed in the raid.