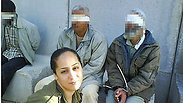 Eden Abergil caused a storm with this Facebook post
The IDF is facing a new enemy – social media. Snap-happy soldiers are sharing the more sensitive aspects of their lives online, where not everyone watching is a friend.

Soldiers are updating their lives at the base, at home, on the bus, causing a major headache for the army when statuses, photos and videos go one step too far. Now the IDF has come up with guidelines designed to create order from the chaos - and make soldiers think twice before clicking "post".

The IDF has been rocked quite a few social media storms in recent years. Just last week, five paratroopers were confined to their base for 21 days after uploading a clip of themselves dancing to Israel's Eurovision entry song "Golden Boy." And a year ago, a row erupted after dozens of soldiers posted on Facebook images of themselves holding signs of solidarity with a Nahal soldier who had been recorded cocking his weapon at a Palestinian.

And that's not all: the height of the storm came when female soldiers posted photos in which they were naked save for their weapons, and soldier Eden Abergil uploaded an image of herself in front of bound and blindfolded Palestinian detainees, along with a caption reading, "The most beautiful period of my life."

An army document issued about a year ago, explaining military regulations regarding social media, failed to resolve the problem. But a new document has been produced by the IDF's chief education officer, Brigadier General Avner Paz-Tzuk, following consultations by the committee established by former chief of staff Benny Gantz.

More on this topic:

This time, the IDF has penned specific "dos" and "don'ts" for soldiers that leave little wriggle room for anyone pleading ignorance. Whoever violates these rules will be prosecuted and face disciplinary punishment.

"IDF soldiers are allowed to use social networks, including the publication of photos in uniform," the document states - but goes on to add quite a few restrictions.

The central section of the document stipulates that social media users must not reveal classified information. It specifies that there are to be no photos of IDF bases, division numbers, equipment or classified troop movements. Another section commands soldiers to respect human dignity online, and bans He notes that the soldier must not impair social networks dignity of another soldier, another person or a particular group.

The new regulations also ban the publication of any content that damages an individual's privacy, and orders soldiers to safeguard the army's reputation and public image. The document says that the soldier must not show the army, military unit, division or any other aspect of the IDF in a bad light or as incompetent. Another rule specifically addresses commanders, requiring them to set a personal example and not blur the line between themselves and their soldiers, both on and off the base or the battlefield.

"If you are a division or company commander, you must remember that you do not connect with the soldiers on Whatsapp," Paz-Tzuk said, referring to the phone messaging service. "Do not post jokes there that you would not tell you are commanding them."