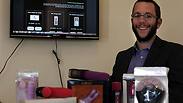 Rabbi Natan Alexander
Photo: AFP
Their inspiration may be exotic -- the Eiffel Tower, the Statue of Liberty, Rome's Colosseum -- but Rabbi Natan Alexander's vibrators have a distinctly domestic goal: giving Orthodox Jewish couples gratification without the guilt.

Alexander, 34, was born in Sydney and now lives in a Jewish settlement in the West Bank.

After studying religion and becoming a rabbi in Israel, he turned his hand to online sex counseling in a mission to spice up the love lives of the faithful.

"Giving pleasure to one's wife is a religious obligation," he told AFP. "Religious couples should be helped to better live their sexuality."

He founded the Better2gether website where observant couples can peruse and purchase all sorts of sex aids, safe in the knowledge the products are kosher.

"Jewish law permits the use of these objects that can best help fulfill the commandment to give pleasure to one's wife," Alexander said.

"Better2gether is here to help couples enhance and strengthen relationships both emotionally and physically," the website proclaims. "Our approach provides modesty, sensitivity, and confidentiality."

Its online catalogue has an architectural flavor, offering vibrators modeled on landmarks including London's Gherkin skyscraper, the fronds of Palm Island in Dubai and the spires and domes of Saint Basil's Cathedral in Moscow's Red Square.

Alexander is not the first cleric to publicly address sex and eroticism in marriage among Judaism's deeply conservative community.

American Orthodox rabbi Shmuley Boteach had a blockbuster success with his 1999 book "Kosher Sex" and his 2009 follow-up "The Kosher Sutra" was also a bestseller.

"I think in our culture we suppress and deny a woman's true erotic nature," he said in a video promoting his 2014 work, "Kosher Lust".

"Women today are loved but they're not lusted after. They're appreciated but not desired," said Boteach, 49, whose website says that he has nine children and two grandchildren. "They're complimented but their husbands aren't ripping their clothes off."
'Proud to be a pioneer'
Alexander's West Bank business has proved successful, counting satisfied customers in Israel but also as far afield as the United States, Britain, Australia and South Africa.

In spite of sales of approximately five items a day and more than 20,000 views of the website a month, he insists his online sex venture isn't all about profit.

"I want to offer these services to allow religious couples access to pleasure without breaking religious laws," he explained.

While the products are the same as those offered by sex shops everywhere, they are supplied in packages without the kind of racy illustrations that offend Orthodox sensitivities.

The site offers online counseling by what it says are professional sex therapists, couples counselors and gynecologists on issues which many couples find hard to raise with their rabbis.

Questions on premature ejaculation, penis size, orgasms and sexual positions are answered using language "respecting the rules of religious life," Alexander said.

"Judaism gives an important place to sexual pleasure but it is still too often a taboo subject," he added. "I am proud to be a pioneer in this field."